Writing teleop programs is super easy with Teleop Catalyst
Hello everyone,
Teleop Catalyst for RobotC is a Windows application that lets users "click together" pretty robust teleop programs using a simple, "click, command, create" workflow. While the user still needs to know how to write simple code such as
Code:

motor[ballSweeper] = 100;
, all the complexities of handling button presses, determining toggle states, driving, etc. are handled by my program and abstracted away from the user. I have included a couple screenshots below to help give you a better idea of what the catalyst does: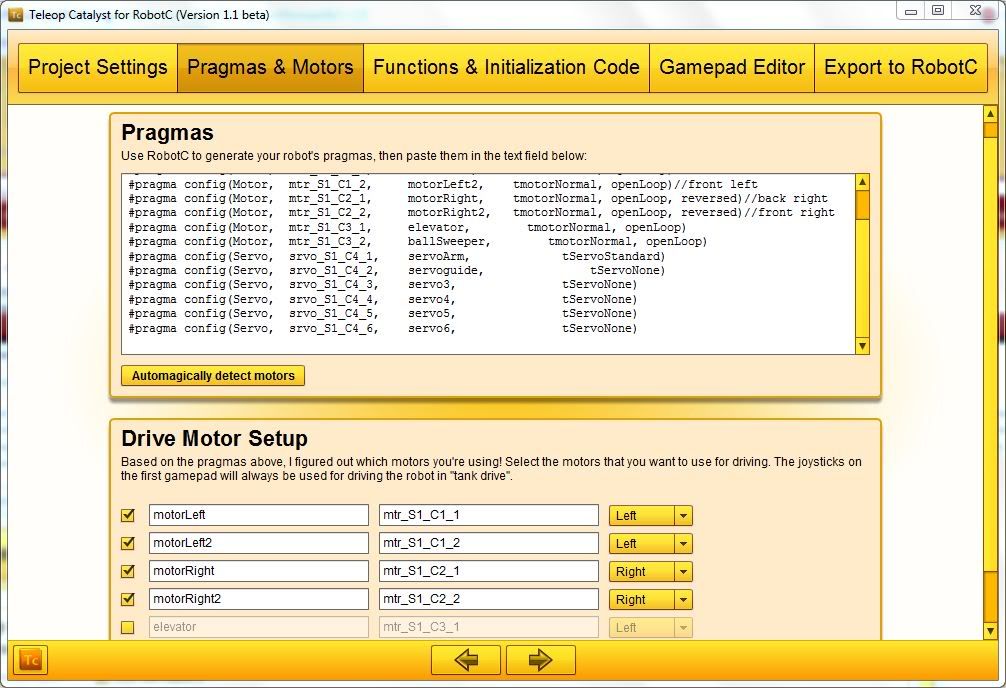 It is my hope that Teleop Catalyst will make the teleop programming aspect of the FTC competition as painless as possible. Also, since the RobotC code generated by the catalyst is fully commented and formatted, it is a great way for those new to the RobotC programming language to learn about how the teleop code works.
To learn more about Teleop Catalyst, and/or give it a spin, visit it's website at:
http://tituswoo.com/project/catalyst
I hope you like it, and I can't wait to hear what you think!
~Titus
P.S., if you like Teleop Catalyst, please consider
becoming a fan on its Facebook page
!
_________________
Code

is

poetry

.
Teleop Catalyst for RobotC
is a program which makes writing teleop programs dead simple. Check it out!
Visit the official Facebook page