Archive for the 'VEX IQ' tag
We are excited to announce our brand new programming game, Beltway, just in time for the kickoff of the VEX IQ Virtual Challenge!
In Beltway, you will program your VEX IQ robot to autonomously score as many cubes as possible during the 2 minute period. The standard Highrise game has been augmented with a conveyor belt around the perimeter and several other game play elements. Click here for a more extensive list of the new rules and game play. Beltway is available in the latest update to the VEX IQ Highrise Robot Virtual World download.
Check out this video of one of the new Virtual VEX IQ models, Clampbot, scoring in Beltway:
We include sample code to help you get started when you install the Robot Virtual World. You can locate it in ROBOTC by going to File > Open Sample Program, and choosing the Highrise folder. Get started today, and keep submitting your high scores and code to CS2N!
Check out our previous post on the VEX IQ Virtual Challenge, here.
We are very excited to announce the VEX IQ Virtual Challenge! This challenge is part of an ongoing research project by Carnegie Mellon's Robotics Academy and the University of Pittsburgh's Learning Research and Development Center designed to assist robotics teams learning to program.
Participating students will learn programming that enables them to solve this year's VEX IQ Virtual Highrise Challenge. As they learn they will also earn an Introduction to Robotics and Programming Certification.
Robomatter is pleased to be working closely with the Robotics Academy to create high quality STEM learning experiences, and has agreed to provide access to all related materials FOR FREE this competition season …
- This year's Virtual HighRise Challenge Game
– Programming Curriculum to help you learn to program
– A live online course to help guide you through the curriculum
– Free ROBOTC and Robot Virtual Worlds Software for active participants
– Digital Certification for students who complete the course and challenge
The first online training course starts October 16th, but you will receive access to the software, the virtual worlds, and the curriculum immediately when you register to participate.  In order to solicit responses to our research questions the ROBOTC and Robot Virtual World licenses are time limited, they will last until November 15, or if your students actively participate by working your way through the programming challenges you will have the license extended until April 2015.
To access these resources and find out more go to the VEX IQ Virtual Challenge page: www.robotc.net/vexiq
We hope that you participate in this project. If you have additional questions please send them to research@cs2n.org
Only two more weeks until our Fall VEX online trainings start. Register for the VEX CORTEX and/or the VEX IQ class today! Enjoy the convenience of taking Robotics Academy courses without leaving your own computer workstation.
Benefits of our Online Training:
– Assisted training using provided hardware and software
– Screen sharing amongst the class
– Networking opportunities with other professional educators
ROBOTC Online Training for VEX CORTEX
Oct 13th – Nov 17th, 2014
Mondays for 6 Weeks
6-8:00pm EST (3-5:00pm PST)
* Graduates Earn a Robotics Academy Certification!
FREE ROBOTC for VEX IQ Webinars
Oct 14th – Nov 18th, 2014
Tuesdays for 6 Weeks
6-6:45pm EST (3-3:45pm PST)
Xander over at BotBench shared a really cool video a couple weeks ago when he attached a GoPro to his VEX IQ that was programmed in ROBOTC. He didn't get any pictures of the robot with the camera on it, but you can see where it was held by the rubber bands on the end of the boom in the pictures below. The angle of the boom was also remote controllable.








And check out the video here …
Read more about this cool project and other things going on over at
BotBench, here!
The Mohave Robotics team (7681B) shared with us that their team voted to kick off their VEX IQ season using ROBOTC Graphical instead of the regular version they used last year. Per their teacher, Bert te Velde, "We wanted to get more people involved with programming and ROBOTC Graphical was the logical step to allow everyone on the team to get involved, no matter what their prior level of experience."
In November 2013, Mohave Middle School sent four 7th graders to Scottsdale Community College for a three month course in full ROBOTC. The results were worth the effort, with Mohave winning the VEX IQ Programming Award at the VEX IQ Arizona State Championship in March 2014, and placing 14th at the VEX IQ World Championship in April 2014. "And they did that with a modified clawbot, one ball at a time!" exclaims Glenn Clevenger, one of the team's mentors. "It's hard to believe that they went from scoring 1 point at their first qualifying event in January to scoring 40 points at the VEX IQ World Championship in April. These kids are proof that ROBOTC is not too difficult for a 7th grader to handle."
If you are wondering why Mohave is moving to ROBOTC Graphical, it's because they plan to have their 8th graders teach all of the 6th and 7th graders that participate in VEX IQ how to program this year. The 8th graders decided it would be faster to get the new team members up to speed on the graphical version, without having to worry about syntax errors. And they can always convert their program to full ROBOTC if they need to later into the season.
Click here to learn more about ROBOTC Graphical!
———————————————————
We were delighted to hear about an inaugural weeklong robotics summer camp happening in North Carolina that is using ROBOTC, ROBOTC Graphical, and the VEX Robotics IQ system to help teach students STEM while keeping them connected to their military families. (One of the mentors was trained at the Robotics Academy last summer too!) Read the story and watch the video highlighting this program below!
Reblog from East Carolina University's News Service
POSITIVE CONNECTIONS
ECU partners in Operation LINK mentoring program
Ten-year-old Tyrrek Grizzle took control of his paddle, maneuvering his miniature land mover with ease.
He and a teammate moved his robot across a grid and past an opponent to pick up as many green-colored blocks as possible and dump them in a coordinating green basket. The team that filled the basket with the most blocks in the three-minute competition won.
Grizzle attended an inaugural weeklong robotics summer camp through Operation LINK, an AmeriCorps school-based science, technology, engineering and mathematics mentoring program for elementary and middle grades students in eastern North Carolina. The STEM program, with a special emphasis on students from military families, will transition from an afterschool program to part of the regular school day this fall.
Offered this spring in Wayne County, the program aims to promote positive behaviors and success in school while keeping military youth connected to family. It's a partnership between East Carolina University, AmeriCorps, military family support networks, veterans groups, community colleges and public schools.
The summer camp, held at Greenwood Middle School in Goldsboro, allowed students to make real robots from designs they developed in their afterschool program.
Counselors and campers used a box kit to construct a robot with up to 650 pieces. A software program (ROBOTC) developed at Carnegie Mellon Robotics Academy gave the students the ability to control movements.
"We had fourth-graders writing code," said Michael "Mike" Dermody, associate professor of cinematic arts and media production in the ECU School of Art. Dermody, who grew up in a military family, said "It's amazing how quickly they adapt. It's a very tactile and hands-on experience. They go in and test and modify it. There's lots of activity between the computer itself and the robot."
For Grizzle, a rising fifth-grader at Tommy's Road Elementary School, taking his work from the computer lab to create a functioning robot is exciting. "Robots help you in a lot of ways," said Grizzle. "They help us do things we can't normally do ourselves." Grizzle has cousins who serve in the military.
The pilot program will become part of the curriculum this fall at three Wayne County schools with a higher population of children from military families, said Lou U. Rose, Operation LINK coordinator in the ECU College of Education, which has facilitated the program.
"We will be able to impact more kids that way."
Area teachers observed some of the program activities. "Some will do it as an elective in science and math classes," Rose said.
"The beauty of this is they can tailor it and run with it and be creative. It brings relevancy in the real world, and maybe will get students interested in science."
Michael Giddens, an AmeriCorps camp mentor who earned a teaching certificate in middle grades science and math from ECU in May, said students learned to collaborate and work as a team at the camp.
"The energy has been electrifying," Giddens said. "Keeping them (students) engaged is a challenge in the classroom in the 21st century."
One old-fashioned value students have learned has been patience, Giddens said, such as when broken robots have had to be re-assembled. Now poised to reach more students, the initial idea for the Operation LINK program was to create a way for military parents to interact with their children – via the web – while the parents were away from home. "It's (been) a way to keep the child connected," Dermody said.
Amy Perry's nine-year-old daughter Kayla and 10-year-old daughter, Alexis, participated in the afterschool program. Perry, a technical sergeant in the U.S. Air Force, inspects aircraft for defects at Seymour Johnson Air Force Base. The Perry family doesn't have a computer, internet or cable in their home. So the program has helped support her girls' interests in science and technology. "It works for us," she said.
Perry said the counselors encouraged her daughters' unique personalities. "It's allowing them to have the space to be who they are," she said. "Respecting others is important."
Kayla Perry said she enjoyed the computer lab and making a virtual robot. "I like the teachers. All the time they think of cool things for us to do," she said. "They always come up with these amazing ideas."
Program activities have helped build relationships between mentors and students, and among students, said Virginia Harris, a retired teacher and military spouse who taught 23 years in several states and overseas.
"I've seen changes in the students, being able to work together and learning to follow rules better," Harris said. "One of the main things they learn is you're not an island. You have to get along with people in life. I think it's difficult for little people to work together as a team sometimes."
To learn more, visit www.ecu.edu/operationlink.
Reblog from
East Carolina University's News Service
We are excited to give you a preview into our newest curriculum series: The Introduction to Programming VEX IQ with ROBOTC. The website is still in-the-works, but it should be completely ready by August. The focus for this curriculum is on the VEX IQ virtual and/or physical robot and the ROBOTC 4.0 software featuring the new  graphical function. It consists of videos, PDFs, quizzes, and our famous easy to use step-by-step videos. Check out some of the videos of from our curriculum series …


The Introduction to Programming VEX IQ with ROBOTC is a curriculum module designed to teach core computer programming logic and reasoning skills using a robotics engineering context. It contains a sequence of projects (plus one capstone challenge) organized around key robotics and programming concepts.
Why should I use the Introduction to Programming EV3 Curriculum?
Introduction to Programming provides a structured sequence of programming activities in real-world project-based contexts. The projects are designed to get students thinking about the patterns and structure of not just robotics, but also programming and problem-solving more generally. By the end of the curriculum, students should be better thinkers, not just coders.
What are the Learning Objectives of the Introduction to Programming VEX IQ Curriculum?
Basic concepts of programming

Commands
Sequences of commands

Intermediate concepts of programming

Program Flow Model
Simple (Wait For) Sensor behaviors
Decision-Making Structures
Loops
Switches

Engineering practices

Building solutions to real-world problems
Problem-solving strategies
Teamwork
For more info and to see the online version of the curriculum, visit http://curriculum.cs2n.org/vexiq.

The engineers at VEX had some fun one weekend and built this Great Ball Contraption. It was featured at Brickworld 2014 as part of one of the world's largest GBC's!









Each module was created independently with common inlet/outlet bays so that they could be reconfigured in any order. They even include some of the new multicolored VEX IQ parts, coming summer 2014!
Do you have a cool project? If so, email us at socialmedia@robotc.net.
In my last post about the VEX IQ building system I had a small video featuring my VEX Quadruped.  I've done a bit of work on it since then and the gait has been greatly improved.  I also added some small rubber feet on the legs.  These are the traction links from the Tank Tread & Intake Kit.
Due to the heavy load that these motors are under, you may find that the batteries will run down a bit faster than you're used to.  Good thing the kits come with a charger!
Up next on the agenda is to add some sensors and have it interact a bit more.  The little wheels on the bottom are not used when it is walking; the robot is fully lifted off the ground.
I've taken some picture, so you can see how it's put together.  These should be enough to copy the design, should you wish to.  You can download the program to run this here: [LINK].  Note that part of the code is based on the excellent guide on creating an Arduino based quadruped: [LINK].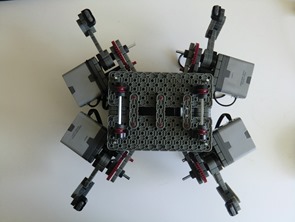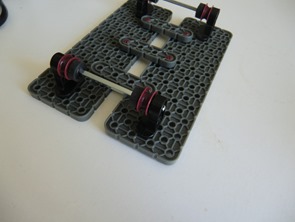 The ROBOTC Development Team is excited to announce the availability of ROBOTC 4.10 – an update for the both the VEX Robotics (Cortex and IQ) and LEGO Mindstorms (NXT and EV3) robotics systems. This new version includes new features and functionality for all ROBOTC 4.X compatible platforms.
Full support for the VEX IQ platform in 'Robot Virtual Worlds' – Updated "Curriculum Companion" to support VEX IQ
Support for VEX IQ 2.4Ghz International Radios (Requires VEX IQ Firmware 1.10 or newer)
Initial Support for I2C devices with EV3 platform
Updated Graphical Natural Language with new colors and commands!
Support for nMotorEncoderTarget in Virtual Worlds (NXT & Cortex Platforms)
Support for motor synchronization in Robot Virtual Worlds (NXT Platform)
Initial update of ROBOTC documentation (VEX Cortex/IQ Platforms)
Support for Project Lead the Way (PLTW) 2014-2015 School Year Users
Before you can use ROBOTC 4.10, you will need to ensure that your devices are up to date. The instructions to update your hardware will be different depending on what hardware setup you may have…
LEGO NXT Users
Simply update to the latest ROBOTC firmware from inside of ROBOTC.
LEGO EV3 Users
Update your LEGO EV3's Firmware/Kernel by connecting your EV3 and select "Download EV3 Linux Kernel" from inside of ROBOTC – This process will take about 5 minutes and will allow your EV3 to communicate with both ROBOTC and the EV3 Icon-Based programming language. After updating your EV3'S Linux Kernel, you'll be able to install the ROBOTC firmware from inside of ROBOTC.
VEX IQ Users
Run the "VEX IQ Firmware Update Utility" and update your VEX IQ Brain to firmware version 1.10. You will also need to update your VEX IQ Wireless Controller by attaching it to your VEX IQ Brain using the tether cable. You will also have to install the latest ROBOTC firmware from inside of ROBOTC.
VEX Cortex Users (with Black VEXnet 1.0 Keys)
You will need to update your VEX Cortex and VEX Game Controllers with version 4.22 from inside of ROBOTC. After updating your master firmware, you will also have to install the latest ROBOTC firmware as well.
VEX Cortex Users (with White VEXnet 2.0 Keys)
The new VEXnet 2.0 keys have a specific "radio firmware" that you will need to upgrade to enable "Download and Debugging" support. You can find the "VEXnet Key 2.0 Firmware Upgrade Utility" utility here.
Link: http://www.vexrobotics.com/wiki/index.php/Software_Downloads
Download the "VEXnet Key 2.0 Firmware Upgrade Utility" and insert your VEXnet 2.0 key to any free USB port on your computer. Follow the instructions on the utility to update each key individually. All VEXnet 2.0 keys must be running the same version in order to function properly.
After updating your VEXnet 2.0 keys, you will need to update your VEX Cortex and VEX Game Controllers with version 4.22 from inside of ROBOTC. After updating your master firmware, you will also have to install the latest ROBOTC firmware as well.
Here's the list of changes and enhancements between version 4.08/4.09 and 4.10.
New Features
Full support for the VEX IQ platform in 'Robot Virtual Worlds' – Updated "Curriculum Companion" to support VEX IQ
Support for VEX IQ 2.4Ghz International Radios (Requires VEX IQ Firmware 1.10 or newer)
Initial Support for I2C devices with EV3 platform
Updated Graphical Natural Language with new colors and commands!
Support for nMotorEncoderTarget in Virtual Worlds (NXT & Cortex Platforms)
Support for motor synchronization in Robot Virtual Worlds (NXT Platform)
Initial update of ROBOTC documentation (VEX Cortex/IQ Platforms)
Support for Project Lead the Way (PLTW) 2014-2015 School Year Users
Bug Fixes
Fixed issue when deleting graphical blocks and ROBOTC would crash.
Improved error messages/status messages for Tele-Op based downloads with VEX IQ
Improved Licensing system features to provide more debugging feedback for -9105 errors.
Fixed to revert issue causing bad message replies on the VEX Cortex system which prevent downloading user programs. (4.09 only)
Updated CHM files and fixed issues in ROBOTC opening the wrong CHM file.
Update colors properly with the new document architecture with graphical.
EV3 – Casper update to prevent crashing when using VMWare Virtual Machines.
VEX IQ Graphical – Add USB 'Directional Pad/POV Hat' values for use with armControl with Virtual Worlds for IQ
VEX IQ Graphical – Added the ability for Graphical XML Documents to contain "RBC Macro" parameters.
Licensing system update to fix "heartbleed" like issues that may be present during activation.
EV3/IQ – Eliminate duplicate identical definitions in robotcintrinsics.c for motor commands.
Add new EV3 commands for sending I2C messages
Fix a bug in compiler generation of 'string' concatenation (i.e. "+") operator.
Bug in code generation. Incorrect generation of opcode bytes for "opcdAssignGlobalSShort"; old format using 1-byte global index instead of new format with 2-bytes.
Update timeouts for VEX Cortex with new Master Firmware 4.22 for use with VEXnet 2.0 Radios.
Renamed DrawCircle to drawCircle
Fix Compiler bug with "%" and ">>" opcodes. Most of the ">>=", "<<=", "%=", "&"=, "|=", and "~=" opcodes don't care whether the left-hand operand is 'signed' or 'unsigned'. That's how they were treated in current compiler / VM. However, ">>" and "%" opcodes do care if "signed' vs 'unsigned' where the operand size is either 'char' or 'short'. This change fixes that situation. This problem has been undetected since the introduction of 'unsigned char' and 'unsigned short' types were introduced.
4WD Support for Natural Language with VEX IQ.
VEX IQ Graphical – Changes to "moveMotor" command to allow it to move in reverse if user specifies a negative quantity or speed, not just speed
VEX IQ Grahpical – Adjust the Graphical arcadeContorl and tankControl commands to only show channels; adjust armControl to only show buttons; add default values to most commands
Virtual Worlds – regulated motor movements for RVW;
VEX IQ – Fixed VEX IQ bug where I2C traffic would be considered "timed out" on VM startup.
As always, if you have questions or feedback, feel free to contact at support@robotc.net or visit our forums!