Archive for the 'Robot' tag
Teacher Appreciation Week is May 6th – 10th and we are celebrating! We LOVE all teachers and appreciate everything they do for their students! Here at the Robotics Academy, we have a special place in our hearts for robotics teachers, mentors and coaches, so this year we want to make sure they get the attention they deserve.
Do you know an amazing robotics teacher, mentor, or coach? Let us know who they are and why they are AWESOME! Send us your best story, pictures, and/or video about this person to socialmedia@cs2n.org. We will share several of these stories on the CMU's Robotics Academy blog during Teacher Appreciation Week. And the Top Three Stories, voted by us, will each WIN one Classroom Annual License for Robot Virtual Worlds for their teacher/mentor/coach!
Stories must be submitted by Wednesday, May 8th at 5pm Eastern Standard Time. We will announce the winners on Friday, May 10, 2013.
Please include contact information (name and email/school phone number) for the teacher, mentor, or coach that you're writing about so we can make sure to get their permission to publish their name on our site. You can send any questions to socialmedia@cs2n.org.
We ran into Paul Utley from Pitsco at the 2013 FIRST Championship who designed a model of the Curiosity Rover with TETRIX parts, NXT brick, and programmed in ROBOTC! We were lucky enough to get a short interview with him about it. Check it out here …









If you are at the 2013 FIRST Championship in St. Louis, MO., make sure to stop by and check it out in person. For more information on Tetrix go to 
http://www.tetrixrobotics.com
Martin Mason, professor of Physics and Engineering at Mt. San Antonio College and ROBOTC user, has developed a new VEXduino Shield. He created a board that you can plug in VEX sensors but, combined with ROBOTC, uses an Arduino to control the robot instead of a Cortex or PIC. Combining the Shield with an Arduino, some VEX parts, and a small breadboard is a perfect recipe for teaching electronics with the ROBOTC for Arduino!
Thank you to everyone who downloaded the new RVW Level Builder and provided feedback! We've released version 2.01 of the software, which addresses the issues some of you were seeing. It can be downloaded here, under Available Level Packs.
If you haven't tried out the Level Builder, you definitely should. It allows you to create your own challenges to solve and share with others. (More detail can be found here, in the original blog post) The latest version even includes the Model Importer, which allows you to use your own 3D objects that were created in Autodesk Inventor and SolidWorks:
Here are the major fixes in this release:
Fixed some large models getting distorted on import
Auto-generated collider can now be edited
Added error reporting readout to Model Importer to improve debugging
Fixed crash conditions when model library is empty
Removed scale reference from generated model thumbnails
STL importer better handles small differences in ASCII STL file formats
Thanks again to everyone who provided feedback!
- Jesse Flot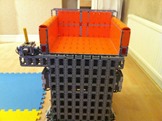 Simon Burfield, a.k.a. Burf has made a super cool model.  By model I mean chair and by chair I mean omnidirectional wheelchair. Oh and it's life-sized, too.  Yeah, it is capable of handling no less than 90 kg!  I saw a video of an early prototype a few weeks ago but this new one is even better-er!
Some facts:
It uses 7 Mindstorms bricks. One for controlling and 6 that are used for moving.
Each driving NXT has two motors attached to it.  I presume that a third motor would probably be pushing it when it comes to providing current.  It's not easy to push that much LEGO and human meat around.
The master NXT has 4 touch sensors connected (forward, back, left and right) and 2 motors to switch on the drive touch sensors.
It uses Rotacaster's omniwheels to make it possible to move in any direction (except up, of course).
It is programmed in ROBOTC (of course)
Here's one of the videos he made:
Isn't this awesome? Go check out the other pictures and videos on the original article page: [LINK]. [via BotBench]
Tired of the same old robot models? Look no further! We're proud to present a new set of classroom-ready robot building instructions.
First up, we have the new and improved Squarebot 4.0:
Squarebot 4.0 features:
1 VEX Cortex
2 Shaft Encoders
1 Limit Switch
1 Bumper Switch
1 Ambient Light Sensor
1 Ultrasonic Rangefinder
1 Potentiometer
1 VEX LCD Screen
2 Driving Motors
1 Arm Motor
And second, we've augmented our popular Swervebot model with an arm!
The Swervebot has a more slender wheelbase and rear caster, making it more suitable for line tracking and fitting in small spaces. It also features:
1 VEX Cortex
2 Shaft Encoders
2 Bumper Switches
3 Line Tracking Sensors
1 Ultrasonic Rangefinder
1 Potentiometer
1 VEX LCD Screen
2 Driving Motors
1 Arm Motor
Note that having all of the sensors isn't required to take advantage of these great robot models. Build them using the parts that you have – or just use the instructions for your own inspiration.
These models along with many others can always be found at the Robotics Academy site.