Archive for the 'Robot Virtual Worlds' tag
We know you dedicate a lot to making sure your students have a great school year and we want you to have a great year, too. Show us how you plan to use the Robomatter PLTW Upgrade Pack to uncomplicate your classroom and you could win great prizes for you and your school!
Here's how it works: Send us a short video about your PLTW robotics classroom or school and how you plan to use the PLTW Upgrade Pack to extend your students' robotics experience. We'll pick three finalists from all of the entries and let the community vote on who they think should win.
Entering the contest is easy. Just follow these three steps:
Start by making sure you have a valid ROBOTC/PLTW 2015-2016 License ID. You'll need this to submit your entry.
Make your video: Show us how you think the upgrade pack can help you, your students, or your school. (Videos should be no longer than three minutes.)
Submit your video by 11:59 EDT on September 20, 2015.
We'll announce the three finalists on September 23rd. Voting will begin at noon ET on the 23rd and will continue until 11:59 pm ET on September 30th. Limit one vote per person, per day.
To learn more, visit : http://robotc.net/pltw/contest
You've probably heard of Robot Virtual Worlds, a high-end simulation environment that enables students to learn programming, even if they don't have direct access to a physical robot. But what are the benefits of Robot Virtual Worlds and how can you use it in your classroom?
Robot Virtual Worlds is a great tool for you, your students, and your classroom. Our infographic shows just a few of the ways Robot Virtual Worlds can help you uncomplicate your classroom by:
Helping you teach more efficiently with fewer resources
Lowering the cost of staring a robotics classroom
Managing students working at different levels
Keeping students engaged
Capturing authentic assessment and tracking individual student progress

Robot Virtual Worlds is not designed to replace your physical robots. Instead, it's designed to help you enhance what you're already doing in your classroom, and help you teach faster and more efficiently with fewer resources. Looking for ideas on how you can use Robot Virtual Worlds in your classroom? Here are just a few:
Have students use Robot Virtual Worlds to test their code before working with a physical robot
Use Robot Virtual Worlds to assign robotics homework
Use Robot Virtual Worlds to create your own virtual challenges
Use simulated fantasy worlds to capture students' attention and make learning fun
Provide a virtual environment for robotics teams to learn to program
You can also check out these real-world stories from teachers who have used Robot Virtual Worlds in their classroom:
Read about how Palisades Middle School is using Robot Virtual Worlds to teach 8th grade students how to build and program a robot through collaborative teamwork
Learn how a teacher in the Hopewell Area School District used Robot Virtual Worlds to challenge students to apply the basics of ROBOTC programming while also asking them to come up with unique strategies for solving an open-ended challenge

My name is Ringo Dingrando and I teach Robotics and Physics at International School Manila in the Philippines.  For the past three years, high school students have been inquiring into how to program using ROBOTC and how to use their programming skills to build robots, often with VEX hardware.  In the classroom, most of my students learn the basics through some great online tutorial videos and by teaching each other.  They can then try their code out on virtual robots by using Robot Virtual Worlds software.  This code is then modified and put onto a physical robot that they build themselves.
This has led to quick progress in the classroom, but it is in our after-school Robotics Club where the benefits of this are becoming more visible. Students in the club needed a venue to showcase their creative robots, and so we developed Robolution.  This is a daylong event in which ISM students in elementary, middle, and high school are given the opportunity to showcase the creations they have been working on in the previous month.
We recently completed our second annual Robolution and the results were spectacular.  Some of the highlights included a life-size robot arm controlled in "Iron Man" style, an air-powered pong game, and a ping-pong launching device.  (Check out the video links!)  Design Tech students were wowing the audience by demonstrating the capabilities of one of our 3D printers.  Students in the middle school robotics program showed off their Lego Mindstorm robots with highlights such as a Rubik's Cube solver, a spinner factory, and a stair-climber.  Elementary school students taught letters and numbers via Bee Bots and showcased their programming prowess through interactive Scratch games.
Robolution was a fantastic learning experience because it promoted programming, design thinking, and creativity.  Almost a thousand people in the ISM community were exposed to the awesomeness of robotics.  I fully expect that a year from now I'll be sharing even more amazing results from our 3rd Annual Robolution.
The Robot Virtual Worlds team is thrilled to announce the availability of two brand new virtual environments, the VEX Robotics Competition – Nothing But Net and VEX IQ Challenge – Bank Shot Robot Virtual Worlds. As in years past, these worlds were made available at the same time as their real world counterparts were unveiled at VEX Worlds!
The competitions for this year are both extremely exciting; teams will actually need to shoot balls into goals. The purpose of these virtual environments is to provide teams with an environment that allows for some strategic planning, and to act as a platform to start programming with the same kinds of motors and sensors that are available in the real world. To that end, we've added exciting new "Launchbots" that are capable of shooting balls across the field and are fully programmable with a full array of motors and sensors. One feature we're really excited about is the "trajectory line", which shows exactly where your shot will go based on the robots angle and motor power! Game scoring, timing, pre-loads, match loads, climbing, and other elements are all implemented, too.
Launchbot shooting a ball into the red net:


Check out our video of the VEX Robotics Competition – Nothing But Net RVW in action:


Launchbot IQ aiming a shot into the common goal:


And here is footage from the VEX IQ Challenge – Bank Shot RVW:


To help you get started with these new Robot Virtual Worlds, we are providing a FREE summer license, available at: http://robotc.net/vex/. Our video-based VEX IQ Curriculum is also available completely for free to help you get started with programming.
Click here for more information on the VEX Robotics Competition – Nothing But Net Robot Virtual World, and here for the VEX IQ Challenge – Bank Shot Robot Virtual World.
After last summer's on-site training at Carnegie Mellon Robotics Academy, Palisades Middle School's technology and computer teachers initiated semester STEM units featuring the VEX Cortex Clawbot, Robot Virtual Worlds software, and ROBOTC programming. 8th grade students now experience how to build and program a robot through collaborative teamwork.
In technology class groups of students learn about robotic systems and mechanics by building and remotely controlling a VEX Clawbot. In computer class students program the VEX Cortex Clawbot in a virtual, immersive environment using Robot Virtual Worlds software and through coursework provided by Carnegie Mellon Robotics Academy's CS2N Moodle-based learning management system. By combining their knowledge and skills in groups, students will ultimately compete using autonomous and remote-control programming in a class competition called, "Tic Tech Toe".
Julia, 8th grade middle school student
I attend Palisades Middle School and am in the 8th grade. I love how both our computer and technology class are combined. Being brand new to the whole experience of robotics, finding new ways to use technology educationally is something that really intrigues me. Currently I am in computer class and cannot compare it to anything else. Overall, the atmosphere and supportive people make this experience fun and worthwhile. It has introduced me to concepts that I didn't even know were possible and are very educational. For example, I have recently learned to use a very cool program called ROBOTC. Basically, ROBOTC is a program which allows you to give your robot "tasks". In my computer class we have been doing this quite a bit and I just love everything about it. Its a new and educational way for students to learn programming. My learning this at a young age really builds success for the future.
Lydia, 8th grade middle school student
Our technology and computer classes joined together while working on robotics. I really enjoyed being able to create and program robots. In our tech class each student was assigned a partner to build a robot and race it in a competition against fellow classmates. Our computer class involved robotic programming.We learned how to compile and download programs to a virtual robot and complete different challenges. This program was so much fun and I really enjoyed how we got to experience both "hands-on" and "hands-off" learning.
Making Robotics Real for Students
There is a real advantage in learning how to program in a virtual environment. Most programming courses offer 2-dimensional "Hello World" feedback. Robot Virtual Worlds gives students immediate 3-D feedback and opens their eyes to real-world programming applications. We have been pleasantly surprised with how students respond with interest to learning how to program when it's presented in this context.
Robot Virtual Worlds also offers an engaging method of project-oriented learning involving challenges. Students don't just program the robot to move, they learn what it would be like to manipulate a robot through various simulated environments. These environments called "worlds" could be a space mission, tropical island, or could even be student-designed obstacle field. These worlds have been effective in stimulating interest and maintaining learner engagement.
In addition to the classroom experience, our first semester students also visited a local robotics company and learned first-hand how their robotics experiences have real-world relevance. Students were given the opportunity to see actual robots in development and other related technologies. This visit got the student's attention, providing them with a better understanding of potential opportunities in engineering and programming.
We are anxious to continue this collaborative program. There was an initial investment in training, software, and hardware, but we feel that the return for the students is well worth it. In sharing our classes and resources, students are learning about information and machine technology in a unique way. We hope that this transfers over into their continuing studies and even future careers.
Are you interested in learning how to program in ROBOTC Graphical for LEGO MINDSTORMS EV3 or EV3 Robot Virtual Worlds? If so, then this YouTube playlist is for you! This set of videos will help you to get started programming with ROBOTC.
These videos are part of the Introduction to Programming EV3 Curriculum. To continue further with our free online training, visit our curriculum page here! http://www.education.rec.ri.cmu.edu/previews/ev3_products/robotc_ev3_curriculum/
Jason McKenna, from the Hopewell Area School District outside of Pittsburgh, PA, writes about his experience in the classroom with the new Robot Virtual World game, VEX IQ Beltway. Check it out below …
——————————————————————————————————
The new VEX IQ virtual game Beltway is a great way to challenge your students to apply the basics of ROBOTC programming while also asking them to come up with unique strategies to try to score as many points in the 2 minute game as possible. My students just spent about 3 weeks working on the challenge and trying to score the highest score as possible. The students had an absolute blast and as a teacher, it was great seeing all the different ways the students tried to tackle this completely open-ended challenge.
The objective in Beltway is the same as VEX IQ Highrise: program your VEX IQ robot to autonomously score as many cubes as possible during a 2 minute period. With Beltway, a conveyor belt has been added around the perimeter of the game field in order to assist with game play. Additionally, the virtual environment utilizes "magic stacking" meaning that the cubes automatically jump onto the stack when they are placed onto of the stacking cube regardless of the apparent size of the robot. The conveyor belt reduces the accumulation of error, where, for example, a robot's slight error in one turn becomes a larger error when the robot repeats that same turn 4 or 5 times. Any time students attempt a long program with many different elements they will at some point become frustrated with the accumulation of error that occurs. Magic stacking and the large margin of error that enables easy pickup of cubes eliminates any frustration that the students may encounter as try to pick up cubes and then stack them. These elements of gameplay in Beltway allow students to focus on their strategy, and it also allows them to try to experiment with many different scoring methods because they are not spending a lot of time programming perfect 90 degree turns and aligning their robots perfectly to pick up a cube. You can click here for a more extensive list of rules and information about gameplay!
Beltway comes with a variety of sample programs that students can use to help them get started or as a reference as they adjust their strategies. For example, if students decided that they wanted to control the conveyer belt manually, they could refer to a sample program to see how that is done. I did that many times while monitoring the students. After a few days, the students aren't repeatedly raising their hands; instead, they just refer to the sample programs for guidance.
The game also served as a great tool to teach beginning programmers the utility of comments. Oftentimes, beginners don't make programs quite as long as the ones they will make for Beltway. Students quickly saw the need to point out what was going on in their code with comments so they could go back to those sections and make whatever adjustments they wanted as they progressed with their gameplay.
As I stated earlier, my students had a lot of fun while playing Beltway. It is not easy to keep students' interest level high in an activity that takes 3 weeks. The students maintained their level of interest and they consistently asked to stay after school to work on their programs some more. We had an in-class competition where the students ran their final programs. The winning team scored the winning points as the timer, literally, went to zero. It was pandemonium in my room. Kids were high-fiving each other, cheering, and remarking at how awesome the competition turned out. Students were also talking about the different strategies that the other teams used and how they could change their programs based upon what they had just seen.
So now, of course, the students want to play some more. This is great because now I can use that as an opportunity to show students how they can take some of the code that they used over and over again (for example, picking up cubes) and show them how they can use full ROBOTC to turn those behaviors into functions. Beltway has proven to be both a great teaching and learning tool in my classroom.
Click here to download the game!
- Jason McKenna
The Robot Virtual World team is happy to announce our latest updates are available for Ruins of Atlantis, Palm Island, and Operation Reset! We've included updated sample program to support all platform types (VEX CORTEX, VEX IQ, EV3, and NXT) within ROBOTC. You can also choose what type of sample program you would like to use from Graphical, Natural Language, or Standard.
Thanks again to everyone who has provided feedback! Please continue to do so at the ROBOTC.net Forums. Happy programming!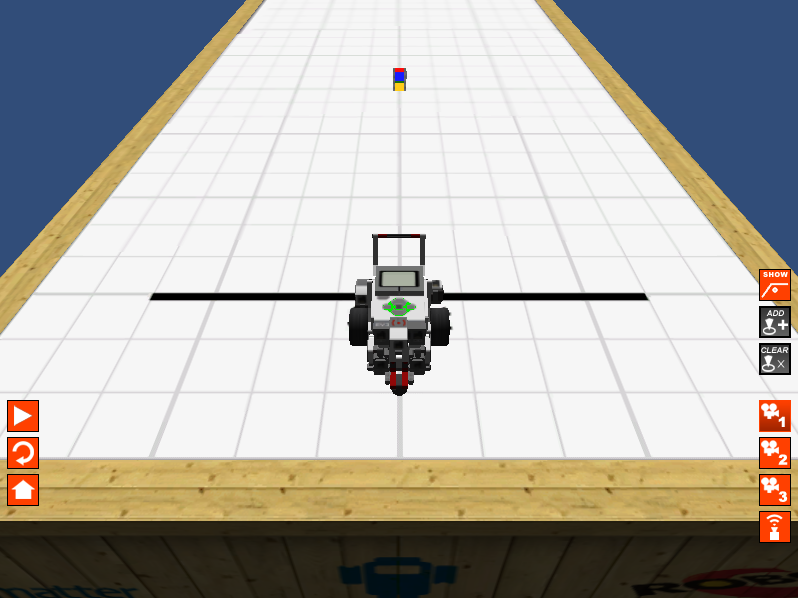 Xander over at BotBench goes into detail in a new blog post about using Robot Virtual Worlds (RVW) inside a Virtual Machine.
He talks about how some of the issues you might encounter using a VM and some of the solutions he has found. Such as the 3 camera settings in RVW:
1. Follow mode: you can use the wheel to zoom in and out.
2. Camera view from above
3. Free movement: hold left button and move to move the view. The wheel is used for zooming.
Unfortunately, if you run RVW inside a VM, camera option 3 does not work. Unless, of course, you know how to configure VMware Workstation properly. To find out how to configure properly and to read the full article, click here!
We are thrilled to announce a brand new, FREE Robot Virtual Worlds app for the iPad! The Robot Virtual Worlds app allows you to start learning how to program both simulated VEX IQ and fantasy robots using ROBOTC Graphical.
Click here to to open the Robot Virtual Worlds App in iTunes!
The current version of the app will allow you to use the Basic Movement commands from ROBOTC Graphical to control the robot (forward, backward, turn right, turn left), along with the robot's grippers and arms to interact with objects in the environment. We believe this is a great teaching tool to include with the Expedition Atlantis iPad app as well as a teaching tool for ROBOTC Graphical!
Check out our video of the app in action…
And as always, if you have questions or feedback, feel free to contact at support@robotc.net or visit our forums! Happy programming!!