Archive for the 'nxt' tag
Ray McNamara is relatively new to ROBOTC, having only really started to seriously use it within the past year, but already he's come up with some interesting projects that caught our eye. The "Monster Ball Sorting Factory", which he shared with us on the forum, is definitely a cool project we had to share.


The Factory is a cooperation between two robots Ray's designed. One is an NXT Forklift truck, which uses a special non-standard part: a pair of Omni Wheels in the back to replace the standard single rotating wheel, which makes the Forklift's turns a lot more reliable.
The other is a long, conveyor belt and claw arm robot that sorts balls piled onto a conveyor belt based on their color. It then puts them into containers, which the Forklift periodically takes and places in a slot so that the robot can dump it into a bigger bin. This robot is a combination of an earlier project, the "Bin Emptying Machine," that takes the balls out of their container with a rail mounted crane that does the sorting.
We asked Ray about the project and his motivation for doing it and he replied:
"My Monster Sorter is still a work in progress, much to my wife's annoyance due to the amount of real-estate it has been taking up in the lounge room since early December 2012.  I hope to have it all running on a single NXT (excluding the Forklift), by means of 2x Mindsensors Motor Multiplexers and 1x Mindsensors Sensor Multiplexer. If my calculations are right, the single NXT Brick will control 8x Motors and 10x Sensors.

My motivation was the challenge to learn how far I take the standard Colour Sorter model. It really started back in 2010, when I convinced Rotacaster Australia's GM to turn his industrial rollers into Omni-wheels for my LEGO Models and robots. After almost exhausting the possibilities of Holonomic Platforms, I looked into other uses for the Rotacaster Wheels, resulting in my Forklift Truck.

Once I had my Forklift Truck, I needed to put it to work. The Ball Sorting Factory was what evolved over a few days. Since then I have been fine tuning the hardware and the ROBOTC code used to control it. In the process, I have also been Beta Testing some Mindsensors Sensors and Multiplexers with it.

I always try to include a detailed description, photos, video, code and CAD files for my robots when they are published to my blog. Although it takes a lot of time to put my blog posts together, I feel it is worth it. I get a lot questions and praise from many people who use my resources. I especially enjoy helping out students with their queries."
To download the code to this project, click here – ROBOTC Code for Factory and ROBOTC Code for Forklift.
Thanks to Ray for taking the time to respond to our questions! Visit Ray's website at www.rjmcnamara.com to see more projects, pictures, codes, videos, and much more.
Do you have a cool project or video you want to share with us? If so, send us an email at socialmedia@robotc.net.
As we mentioned before, every year at Worlds, we get to meet some amazingly talented students. Jacob Mason was one of those students. He is the lead programmer for FTC Team 3486 the Techno Warriors Advanced.  Check out his story in this interview:









Are you a ROBOTC student who wants to share your story with us? If so, send us an email at
socialmedia@cs2n.org
!
Starting Monday, June 17th, our free online classes will begin for the Robotics Summer of Learning. The ROBOTC team will show you the best ways to get started using ROBOTC and answer your questions LIVE! The goals for these classes is to support you, our users, and help you earn a ROBOTC certification!
The classes and Q&A sessions will take place throughout the summer on WebEx at the times listed below. The length of the class will be based on how many questions we need to answer.
VEX
Tuesdays, Wednesdays, Fridays at 11:00am EDT
LEGO
Mondays, Wednesdays, Fridays at 12:00pm EDT
**Classes will be recorded and posted online after each session.**
——————————————————————
How to Sign Up:
1. Register for Summer of Learning - Choose one of the following Robotics Summer of Learning Courses and sign up!
2. Choose a WebEx Course - Join your choice of WebEx courses 30 minutes before scheduled course begins:
VEX
Tuesdays, Wednesdays, Fridays at 11:00am EDT
LEGO
Mondays, Wednesdays, Fridays at 12:00pm EDT
If you would like to ask questions during the live class, make sure to have a USB headset. You can also submit your questions before and during each class through the ROBOTC forum or our social media sites.
——————————————————————
Official RSOL Prizes Announced! 
Don't forget, you can win some great prizes if you compete in one of our
ROBOTC Robot Virtual Worlds Challenges
! We will be giving away VEX IQ and NXT Kits; ROBOTC and Robot Virtual Worlds licenses; and two $1000 scholarships.
Sign-up Today!
We are very happy to announce the official prizes for the Robotics Summer of Learning competitions! We will be giving away VEX IQ and NXT Kits; ROBOTC and Robot Virtual Worlds licenses; and two $1000 scholarships. There will be three competitions eligible for prizes: CS2N VEX Toss Up Challenge, CS2N FTC "Ring It Up!" Challenge, and Robot Virtual Worlds Beacons and Barriers.
Each competition will be broken up into three divisions. Each player is eligible for only one prize per competition. The official rules are listed on the official Robotics Summer of Learning page.
Competitions are open now, so sign up today!

Divisions
Middle School Division – 6th to 8th Grade (for the 2013-2014 School Year)
High School Division - 9th to 12th Grade (for the 2013-2014 School Year)
Open Division - Teachers, Mentors, Coaches, Educators, Hobbyists, Everyone!
 
Prizes
The official rules are listed on the official Robotics Summer of Learning page.
Start programming today for your chance at these awesome prizes!

Robot designed by Drew Ellis from The Noun Project and the Trophy is from The Noun Project.
We ran into Paul Utley from Pitsco at the 2013 FIRST Championship who designed a model of the Curiosity Rover with TETRIX parts, NXT brick, and programmed in ROBOTC! We were lucky enough to get a short interview with him about it. Check it out here …









If you are at the 2013 FIRST Championship in St. Louis, MO., make sure to stop by and check it out in person. For more information on Tetrix go to 
http://www.tetrixrobotics.com
In years past, the science and art fields were generally considered to be diametrically opposed; if something was scientific it usually didn't have artistic value, and if it was a work of art it probably didn't do much for the scientific community. Recently, though, the line between art and science has been blurred and blended in some very unique and interesting ways.
A prime example of this is a color-sensing "Coltar" made by Youtube user PhilippLens. By mixing imagination with ingenuity, PhilippLens created the hybrid guitar using a LEGO Mindstorms NXT brick with a color sensor and two touch sensors (one on the Coltar itself, the other on the 'pick'). Using the touch sensors to control chords and the color sensor to control which notes are being 'strummed' allows the Coltar to emit a surprisingly large range of notes.
For more information on this cool project, check out Philipp's Reddit post. You can also download the code here.
When you think of a printer, what images come to mind? Generally, printers are considered necessary but frustrating (Office Space, anyone?) pieces of office equipment and like most other cubicle furnishings they are usually pretty boring.
Not so much anymore.
McNamara has yet again created something functional yet stylish, this time by turning an NXT and some Mindstorm parts into a surprisingly accurate X-Y axis plotter. Quite possibly the coolest thing about the plotter, though, is that (taken from McNamara's blog) "An X–Y plotter is a plotter that operates in two axes of motion ("X" and "Y")… The term was used to differentiate it from standard plotters which had control only of the "y" axis, the "x" axis being continuously fed to provide a plot of some variable with time." This mean that the pen itself moves in both the X and Y directions (technically it moves in all 3 axis of motion, but the Z axis doesn't come into play on this plotter, except to move the pen on and off the dry-erase board) and that the table stays in a static position; very cool.
Don't take our word for it though; check it out on McNamara's blog (complete with pictures, video, code, and building instructions)!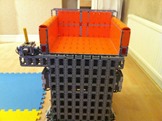 Simon Burfield, a.k.a. Burf has made a super cool model.  By model I mean chair and by chair I mean omnidirectional wheelchair. Oh and it's life-sized, too.  Yeah, it is capable of handling no less than 90 kg!  I saw a video of an early prototype a few weeks ago but this new one is even better-er!
Some facts:
It uses 7 Mindstorms bricks. One for controlling and 6 that are used for moving.
Each driving NXT has two motors attached to it.  I presume that a third motor would probably be pushing it when it comes to providing current.  It's not easy to push that much LEGO and human meat around.
The master NXT has 4 touch sensors connected (forward, back, left and right) and 2 motors to switch on the drive touch sensors.
It uses Rotacaster's omniwheels to make it possible to move in any direction (except up, of course).
It is programmed in ROBOTC (of course)
Here's one of the videos he made:
Isn't this awesome? Go check out the other pictures and videos on the original article page: [LINK]. [via BotBench]
This project was submitted by ROBOTC user Michael B. He uses an NXT robot equipped with a HiTechnic EOPD (Electro Optical Proximity Detector) to determine the robots surroundings and then intelligently create and navigate a path through the maze maze.
From the creator:
It shows a robot solving a maze very similar to the micro mouse challenge. It's an excellent application of 2D arrays. It's also the most accessible task I could conceive of that would require students to build robots that remembered stuff about their surroundings, related that information and build on it, and then use that information to make intelligent decisions.
Here's video of the Macro Mouse in action, with lots of additional detail:

NeXT-Generation, over on the ROBOTC forums, posted a very cool project he's been working on for the last two months.  It's an automated brick sorter made with a combination of Mindstorms NXT, Power Functions and Pneumatics.
The video might be long but it's well worth watching!
Naturally, we asked him questions about his creation:
What motivated you to make this?
I wanted to build a robot that was interactive and would entertain smaller kids, and be mechanically interesting to older ones, and even adults. Here's what happened: I planned for it to be able to "learn" where the colors were supposed to go. You could tell it if it put the brick in the right or wrong area until it learned where they all belonged. But, mechanical glitches in the construction that I didn't have time to fix prevented that from happening. I probably would have made another console with the other NXT with the yes/no buttons, and it could make sounds and use the display to interact.
How long did it take?
Well, if you count total time it's been built, about two months. But, now here's the catch: I've really only been working on it for about one month, because I got sick twice over the last two months, so in total I was out of it for about a month. During that month I was also working on other stuff. Probably about a week was lost to messing with my Boe-Bot and Pololu 3Pi.
Do you have any plans for future improvements or modifications?
I plan to revisit the same kind of concept, but with no deadline so that I can work out any problems that come up.
What is the average air speed of a laden swallow?
The average airspeed of a laden swallow is 42.
A very cool project, indeed!