Archive for the 'mindstorms' tag
In years past, the science and art fields were generally considered to be diametrically opposed; if something was scientific it usually didn't have artistic value, and if it was a work of art it probably didn't do much for the scientific community. Recently, though, the line between art and science has been blurred and blended in some very unique and interesting ways.
A prime example of this is a color-sensing "Coltar" made by Youtube user PhilippLens. By mixing imagination with ingenuity, PhilippLens created the hybrid guitar using a LEGO Mindstorms NXT brick with a color sensor and two touch sensors (one on the Coltar itself, the other on the 'pick'). Using the touch sensors to control chords and the color sensor to control which notes are being 'strummed' allows the Coltar to emit a surprisingly large range of notes.
For more information on this cool project, check out Philipp's Reddit post. You can also download the code here.
When you think of a printer, what images come to mind? Generally, printers are considered necessary but frustrating (Office Space, anyone?) pieces of office equipment and like most other cubicle furnishings they are usually pretty boring.
Not so much anymore.
McNamara has yet again created something functional yet stylish, this time by turning an NXT and some Mindstorm parts into a surprisingly accurate X-Y axis plotter. Quite possibly the coolest thing about the plotter, though, is that (taken from McNamara's blog) "An X–Y plotter is a plotter that operates in two axes of motion ("X" and "Y")… The term was used to differentiate it from standard plotters which had control only of the "y" axis, the "x" axis being continuously fed to provide a plot of some variable with time." This mean that the pen itself moves in both the X and Y directions (technically it moves in all 3 axis of motion, but the Z axis doesn't come into play on this plotter, except to move the pen on and off the dry-erase board) and that the table stays in a static position; very cool.
Don't take our word for it though; check it out on McNamara's blog (complete with pictures, video, code, and building instructions)!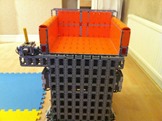 Simon Burfield, a.k.a. Burf has made a super cool model.  By model I mean chair and by chair I mean omnidirectional wheelchair. Oh and it's life-sized, too.  Yeah, it is capable of handling no less than 90 kg!  I saw a video of an early prototype a few weeks ago but this new one is even better-er!
Some facts:
It uses 7 Mindstorms bricks. One for controlling and 6 that are used for moving.
Each driving NXT has two motors attached to it.  I presume that a third motor would probably be pushing it when it comes to providing current.  It's not easy to push that much LEGO and human meat around.
The master NXT has 4 touch sensors connected (forward, back, left and right) and 2 motors to switch on the drive touch sensors.
It uses Rotacaster's omniwheels to make it possible to move in any direction (except up, of course).
It is programmed in ROBOTC (of course)
Here's one of the videos he made:
Isn't this awesome? Go check out the other pictures and videos on the original article page: [LINK]. [via BotBench]
The Robotics Academy is proud to announce the arrival of ROBOTC for Mindstorms 2.0. This new version of ROBOTC is coming almost a year after the release of ROBOTC for Mindstorms 1.40. ROBOTC 2.0 adds a lot of new feature and functionality to the popular programming language for LEGO NXT robots.
ROBOTC for LEGO MINDSTORMS is a ANSI-C based programming language for the MINDSTORMS NXT and RCX robotic systems. ROBOTC offers users a common programming language across different popular robotic platforms; with a unique powerful run-time debugger that give a user complete feedback on all input, outputs, and variables in their programs.