Archive for the 'lego' tag
Now more than ever, robotics educators are faced with the important question of which kit they should purchase and use. This key question has been made even more intricate in the 2013-2014 school year due to the addition of the new robotics kit, LEGO MINDSTORMS EV3. This article will help break down LEGO's kits, their capabilities and target audiences, and allow you, the educator, to make an informed decision on which kit is best for your particular classroom.
The LEGO MINDSTORMS EV3 is the all-new robotics kit from LEGO Education (creators of the LEGO MINDSTORMS NXT system). It is fully compatible with previous NXT hardware (except for the battery), including all plastic structural pieces and sensors.
Those starting a classroom from scratch need not worry; the EV3 comes with a total of 541 elements, including a multitude of structural parts (beams, connectors, wheels, gears, etc), 4 different sensor types (color sensor, gyroscopic sensor,  ultrasonic sensor, and touch sensor), 3 motors, and the EV3 micocontroller or 'brain'.
The EV3 microcontroller sports 4 sensor ports, 4 motor ports, a internal Bluetooth adapter, and a USB slot which can be used with a WiFi adapter for wireless connectivity (as well as microSDHC card slot which supports cards up to 32GB in size).
It utilizes a Linux-based firmware which allows for on-brick programming and datalogging.
The EV3 is already legal in First Lego League (ages 9-14), but we are still waiting on information on when it will be legal for First Tech Challenge (High School) competitions.
Recommended use: Middle School (EV3) or High School (with MATRIX or TETRIX kit).
Now, let's take a look at the LEGO MINDSTORMS NXT V2.0. Released in 2009, the NXT platform utilizes a plastic snap-fit hardware structure system, with 431 elements included in the base kit.
These elements consist of both structural pieces (beams, connectors, and axles, to name a few), three interactive servo motors, the NXT microcontroller, and ultrasonic, light, sound, and two touch sensors included.
There are also many third-party sensors available from sites such as Hitechnic, Dexter Industries, and Mindsensors.
Wireless capabilities include built-in Bluetooth and WiFi connectivity (provided by an external Samantha Module adapter).
The NXT is currently a legal microcontroller for both the First Lego League (FLL, ages 9-14) and First Tech Challenge (High School) challenges.
Recommended use: Middle School or High School (with MATRIX or TETRIX metal kit).
We understand that choosing a robotics kit is a tough decision. The number one factor in determining which kit is right for you will come down to the students; depending on the skill level of the students, it may be better to challenge them with a more advanced kit  (MATRIX or TETRIX kits) or they made need to start with a simpler kit (LEGO NXT or EV3 kits). No matter which kit you decide to use, though, you can rest easy knowing ROBOTC will fully support all of these platforms.
Getting your classroom organized for the beginning of the school year is an arduous task for even the most experienced teacher.  It can be even more demanding for those that teach robotics.  You've got the robot kits, you've been trained in ROBOTC, but how do you set up your class for the first day of school?  The goal of this article is to help answer the question for both new robotic teachers and teachers that have been teaching robotics for years.
As we all know, a robotics kit is more expensive than a textbook.  Moreover, because robotics kits contain so many small pieces, they can be much more difficult to take care of than a textbook.  As a result, keeping your kits organized is crucial.  If using a LEGO MINDSTORM NXT, EV3, or TETRIX robot, one way that I have found that can be very helpful is to name the NXT brick.  Then, give the same name to the kit. Now, assign the kit to the group of students in your class.  If the students know that
they are responsible for that kit, it goes a long way towards them acting more responsibly with the kit. If using a VEX robot, you won't have the same ability to name your brick, but you can still able to label your robotics kit.
Which students are assigned to work together is also something that the teacher must put some thought into.  Once again, maintaining the kits is of the utmost importance.  Therefore, I am not going to allow students to work together if I feel that will not take care of the kit.  Some students are more organized and careful with the kits than others.  I always try to have one of those students in a group.  I try to have the kits named and assigned before the first day of school.  If I don't know the students, then I may have to adjust the groups as we progress throughout the beginning of the school year.
Once the kits are organized, the teacher can then start to think about how their curriculum items are going to be accessed and utilized.  A math teacher has a plan for when their students have a question about a topic, or when a student is confused about a particular concept.  A robotics teacher has to have the same type of plan in mind.  The beauty of teaching robotics lies in the fact that students are intrinsically motivated to find answers to their problems because they are highly engaged.  Some students will still be conditioned, however, to try to elicit the answer from the teacher instead of reasoning through a problem on their own.  Robotics teachers need to create a plan so the students can work towards being independent and productive problem solvers.
To that end, a good approach to a complex challenge is to examine what needs to be done before the challenge, during the challenge, and after the challenge is complete.  Before the challenge, students should be focusing on create flowcharts to organize their program and writing pseudocode to reflect those flowcharts.  During the challenge, students should focus on commenting their code and debugging techniques.  Afterwards, students should be afforded the opportunity to reflect and respond to what went well, what went not so well, and what they learned throughout the process.
Giving students a little bit of structure while they engage a challenging task will go a long way towards ensuring that the students' high level of engagement does not turn into a high level of frustration.  Engagement works both ways in that sense: High engagement leads to students that are focused on their task, but can also lead to high levels of frustration because the students desperately want to finish that task.  To avoid the frustration,teachers should provide a structure that the students can rely on when needed.  Before the school year begins, teachers should spend some time planning students' work, and then the students can spend time during school working their plan.
The beginning of the school year is always a challenge.  As teachers, we understand that unforeseen difficulties will always arise.  However, going into the school year with as much planned and organized as possible helps us to focus on those unpredictable events that will undoubtedly occur.
Check out how we organize robot parts at the Carnegie Mellon Robotics Academy:
-Jason McKenna
It is that time of year again … backpacks on our backs, buses on the streets, and lessons being planned. Yes, we are going back to school! To kick start the school year, we are introducing a six week robotics back to school blog series that highlights the technical and pedagogical side of planning for your robotics classroom. John Watson, from ROBOTC customer support, and Jason McKenna, a K-8 Gifted Support Teacher in the Hopewell Area School District outside of Pittsburgh, PA, will be sharing with you tips, tricks, advice, and recommendations on prepping your robotics classroom and curriculum.
As each blog is posted, the topics below will turn into hyperlinks, so feel free to bookmark this page!
Topics
If you have any questions or would like to start a conversation on any of the topics, feel free to leave us a comment below!
Join fellow PA FTC teams at this season's Pennsylvania FTC Season Kick-off on September 7, 2013 from 11am to 4pm! This season it has expanded to three locations (East/Downingtown, Central/Millersville, West/Pittsburgh), and the three sites will be linked together to form one large virtual Kick-off event. The Pittsburgh event will take place at Carnegie Mellon University's National Robotics Engineering Center.
Schedule of Events:
11:00 Registration
11:15 Local Info Sessions / Tours (see below)
12:15 Lunch
1:00 Welcome and Opening Remarks
1:10 Pennsylvania FTC 2013-2014 Season
1:30 Judging / Engineering Notebook Update
2:00 ROBOTC / Robot Virtual Worlds Update
2:30 TETRIX and Matrix Update
2:45 Break
3:00 2013-2014 FTC Game Reveal!
3:15 Local Game Discussion
4:00 Event Complete
Tour Information – Teams visiting the West/Pittsburgh region will have a chance to tour the National Robotics Engineering Center – a research hub of Carnegie Mellon University's Robotics Institute. Teams will learn about how state of the art robotic concepts are being utilized in commercial, agriculture and military applications. Teams will also get to see the research and development labs for Carnegie Mellon's Tartan Rescue, creators of CHIMP for the newest DARPA Robotics Challenge. Learn more by visiting http://www.rec.ri.cmu.edu.
Every student who completes a ROBOTC Summer of Learning course will have the opportunity to take a ROBOTC Student Certification Exam! This certificate will represent a student's programming and robot problem solving accomplishments.
Throughout the course, the student will earn badges as they successfully complete challenges. Each badge contains information to help others understand what a student knows: who awarded it, who recognizes it, when they earned it, links to example student code, their videos, their scores, the types of questions they answered, or other information designed to show off their accomplishments.


At the very end of the course, students will have the opportunity to take an exam. This certification exam will consist of 125 questions to be completed in 100 minutes. Students will need to earn a score of 70% or higher in order to earn the certification.
Every student enrolled in one of our Robotics Summer of Learning class will have the option of taking the ROBOTC for LEGO or the ROBOTC for VEX student certification exam. Sign up for a class today:
And don't forget about our free ROBOTC live training, starting Monday, June 17th:
Starting Monday, June 17th, our free online classes will begin for the Robotics Summer of Learning. The ROBOTC team will show you the best ways to get started using ROBOTC and answer your questions LIVE! The goals for these classes is to support you, our users, and help you earn a ROBOTC certification!
The classes and Q&A sessions will take place throughout the summer on WebEx at the times listed below. The length of the class will be based on how many questions we need to answer.
VEX
Tuesdays, Wednesdays, Fridays at 11:00am EDT
LEGO
Mondays, Wednesdays, Fridays at 12:00pm EDT
**Classes will be recorded and posted online after each session.**
——————————————————————
How to Sign Up:
1. Register for Summer of Learning - Choose one of the following Robotics Summer of Learning Courses and sign up!
2. Choose a WebEx Course - Join your choice of WebEx courses 30 minutes before scheduled course begins:
VEX
Tuesdays, Wednesdays, Fridays at 11:00am EDT
LEGO
Mondays, Wednesdays, Fridays at 12:00pm EDT
If you would like to ask questions during the live class, make sure to have a USB headset. You can also submit your questions before and during each class through the ROBOTC forum or our social media sites.
——————————————————————
Official RSOL Prizes Announced! 
Don't forget, you can win some great prizes if you compete in one of our
ROBOTC Robot Virtual Worlds Challenges
! We will be giving away VEX IQ and NXT Kits; ROBOTC and Robot Virtual Worlds licenses; and two $1000 scholarships.
Sign-up Today!
We are very happy to announce the official prizes for the Robotics Summer of Learning competitions! We will be giving away VEX IQ and NXT Kits; ROBOTC and Robot Virtual Worlds licenses; and two $1000 scholarships. There will be three competitions eligible for prizes: CS2N VEX Toss Up Challenge, CS2N FTC "Ring It Up!" Challenge, and Robot Virtual Worlds Beacons and Barriers.
Each competition will be broken up into three divisions. Each player is eligible for only one prize per competition. The official rules are listed on the official Robotics Summer of Learning page.
Competitions are open now, so sign up today!

Divisions
Middle School Division – 6th to 8th Grade (for the 2013-2014 School Year)
High School Division – 9th to 12th Grade (for the 2013-2014 School Year)
Open Division – Teachers, Mentors, Coaches, Educators, Hobbyists, Everyone!
 
Prizes
The official rules are listed on the official Robotics Summer of Learning page.
Start programming today for your chance at these awesome prizes!

Robot designed by Drew Ellis from The Noun Project and the Trophy is from The Noun Project.
We ran into Paul Utley from Pitsco at the 2013 FIRST Championship who designed a model of the Curiosity Rover with TETRIX parts, NXT brick, and programmed in ROBOTC! We were lucky enough to get a short interview with him about it. Check it out here …









If you are at the 2013 FIRST Championship in St. Louis, MO., make sure to stop by and check it out in person. For more information on Tetrix go to 
http://www.tetrixrobotics.com
In years past, the science and art fields were generally considered to be diametrically opposed; if something was scientific it usually didn't have artistic value, and if it was a work of art it probably didn't do much for the scientific community. Recently, though, the line between art and science has been blurred and blended in some very unique and interesting ways.
A prime example of this is a color-sensing "Coltar" made by Youtube user PhilippLens. By mixing imagination with ingenuity, PhilippLens created the hybrid guitar using a LEGO Mindstorms NXT brick with a color sensor and two touch sensors (one on the Coltar itself, the other on the 'pick'). Using the touch sensors to control chords and the color sensor to control which notes are being 'strummed' allows the Coltar to emit a surprisingly large range of notes.
For more information on this cool project, check out Philipp's Reddit post. You can also download the code here.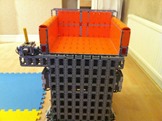 Simon Burfield, a.k.a. Burf has made a super cool model.  By model I mean chair and by chair I mean omnidirectional wheelchair. Oh and it's life-sized, too.  Yeah, it is capable of handling no less than 90 kg!  I saw a video of an early prototype a few weeks ago but this new one is even better-er!
Some facts:
It uses 7 Mindstorms bricks. One for controlling and 6 that are used for moving.
Each driving NXT has two motors attached to it.  I presume that a third motor would probably be pushing it when it comes to providing current.  It's not easy to push that much LEGO and human meat around.
The master NXT has 4 touch sensors connected (forward, back, left and right) and 2 motors to switch on the drive touch sensors.
It uses Rotacaster's omniwheels to make it possible to move in any direction (except up, of course).
It is programmed in ROBOTC (of course)
Here's one of the videos he made:
Isn't this awesome? Go check out the other pictures and videos on the original article page: [LINK]. [via BotBench]