Archive for the 'VEX' Category
We are excited to give you a preview into our newest curriculum series: The Introduction to Programming VEX IQ with ROBOTC. The website is still in-the-works, but it should be completely ready by August. The focus for this curriculum is on the VEX IQ virtual and/or physical robot and the ROBOTC 4.0 software featuring the new  graphical function. It consists of videos, PDFs, quizzes, and our famous easy to use step-by-step videos. Check out some of the videos of from our curriculum series …


The Introduction to Programming VEX IQ with ROBOTC is a curriculum module designed to teach core computer programming logic and reasoning skills using a robotics engineering context. It contains a sequence of projects (plus one capstone challenge) organized around key robotics and programming concepts.
Why should I use the Introduction to Programming EV3 Curriculum?
Introduction to Programming provides a structured sequence of programming activities in real-world project-based contexts. The projects are designed to get students thinking about the patterns and structure of not just robotics, but also programming and problem-solving more generally. By the end of the curriculum, students should be better thinkers, not just coders.
What are the Learning Objectives of the Introduction to Programming VEX IQ Curriculum?
Basic concepts of programming

Commands
Sequences of commands

Intermediate concepts of programming

Program Flow Model
Simple (Wait For) Sensor behaviors
Decision-Making Structures
Loops
Switches

Engineering practices

Building solutions to real-world problems
Problem-solving strategies
Teamwork
For more info and to see the online version of the curriculum, visit http://curriculum.cs2n.org/vexiq.

An article titled, "Robots Are Everywhere! Learning About Technology From Robotics" was recently published on the Huffington Post website featuring the Carnegie Mellon Robotics Academy! The author, Dr. Julie Dobrow from Tufts University, reached out to some of the staff at the Robotics Academy to get their take on robotics in the classroom. Here are some excerpts from the article …
The "Robotics Academy" at Carnegie Mellon University features a variety of tips for educators and parents on using robotics to teach kids about math, science, engineering and physics. Their extremely well-organized website offers curricular information, products and support to demonstrate ways to use both VEX systems (essentially a kit with all the component parts that enables kids to build a robot) and LEGOs to teach many STEM principles. All of their work and products are based on extensive research.

Robin Shoop, Director of the CMU Robotics Academy, believes that some of the work they are doing at CMU can make learning come alive. "Robots provide the hook that can be used to excite students about STEM academic concepts. Robotics activities in and of themselves will not improve STEM academic performance, but if robotics technologies are introduced correctly, and the STEM academic concepts are properly foregrounded, then robotics provides an excellent organizer to teach kids about STEM."

Ross Higashi, lead curriculum developer at CMU says, "It's a common misconception that involving robots in a curriculum or afterschool program makes STEM magic happen. That's simply not true… Robotics presents a wealth of opportunities to teach meaningful content. But doing that, it's not trivial. It's hard work. You need well-targeted lessons, and you need a teacher who can support students who are learning by doing. In the end, though, as many students and teachers will tell you: it's absolutely worth it, and the hardest fun they've ever had."

And kids do have fun. And not only kids. Jason McKenna, a K-8 teacher in the Hopewell(PA) Area School District who works with the CMU Robotics Academy points out that it's the combination of high engagement, the ability to teach each student at his or her instructional level and provide opportunities for differentiated engagement "that makes Robotics such fun for me as a teacher."
The ROBOTC and Robot Virtual World teams are thrilled to announce the availability of our newest virtual world: VEX IQ Highrise! Like previous simulations of the VEX competitions, this virtual world includes a fully programmable robot, the correctly scaled field, game objects, and score and timer tracking. It's absolutely perfect for teams who want to do strategic planning and learn how to program.
Just like the official 2014-2015 VEX IQ competition, the object of the game is to attain the highest possible score by Scoring Cubes in the Scoring Zone and by building Highrises of Cubes of the same color on the Highrise Bases. Each Cube Scored in the Scoring Zone is worth a point value equal to the Highrise Height of the same color as the Cube. That is, if a team builds a Highrise of 3 red Scoring Cubes on the Highrise Base, a red cube in the Scoring Zone is worth 3 points.


Check out our latest video highlighting the game:


The download for the VEX Highrise virtual world, along with additional helpful information can be found at RobotVirtualWorlds.com/VEXIQ.
The China ROBOTC team sent us some great photos from the China International Robotic Show in Shanghai, which they'll be at from July 9-11. We will update the photos here and on our Facebook page as we get them from the weekend!
The engineers at VEX had some fun one weekend and built this Great Ball Contraption. It was featured at Brickworld 2014 as part of one of the world's largest GBC's!









Each module was created independently with common inlet/outlet bays so that they could be reconfigured in any order. They even include some of the new multicolored VEX IQ parts, coming summer 2014!
Do you have a cool project? If so, email us at socialmedia@robotc.net.
Did you know that you can sign up for the
Robotics Summer of Learning
anytime during the summer? All our live webinars are recorded, so you can easily
sign up today
and work at your own pace!
FAQ

How do I join and get into the class?
Sign in or sign up for a new account at CS2N.org. Then visit http://cs2n.org/summer-of-learning and click on the VEX IQ robot. You'll be taken to a new page where you will click "View" under "Summer of Learning 2014 – VEX IQ – Intro." From there you will be in the official Summer of Learning course!
How much does this course and/or software cost?
Nothing at all! It is free until September 1, 2014.
What do I need to download?
ROBOTC and the VEX IQ Challenge Pack. You need to download both items. The License ID and Password is located in the CS2N Moodle Course. Use these to activate the license for the entire summer (through September 1st). Computer Minimum Requirements.
Where can I find the link for the live classes?
The link is at the top of the section for the topic of that class. For example, if the topic for the live class is turning, the link will be at the top of the basic movement section. This is also where you will find the recording after the live class has ended.
What is the class schedule?
The live class schedule is listed below, but remember that you can work throughout the summer at your own pace. All classes are recorded. Just keep in mind that if you work ahead, some items of the curriculum will not be released until later this summer.
Will I be able to use the ROBOTC Graphical with EV3 and/or NXT? And, will there be a RSOL class for that?
ROBOTC for LEGO MINDSTORMS is still in development, but it will be available later this summer. Once it is ready, there will be a Robotics Summer of Learning course specifically for it.
Live Webinar Course Schedule
June 16: Introduction to Software, Setup, Forums and Procedures used in this course
June 17: Intro to Expedition Atlantis and Moving Forward
June 23: Turning and Intro to Ruins of Atlantis
June 30: Forward until Touch and Forward until Near
July 7th: Turn for Angle, Forward until Color, Intro to Palm Island
July 14th: Loops and if/else
July 21st: Repeated Decisions, Continuous Decisions, Intro to Operation Reset
July 28th: Joystick and Button control, intro to VEX IQ Highrise
Our Robotics Summer of Learning (RSOL) course opens this Sunday, June 15 with our first live webinar course starting on Monday, June 16! The RSOL gives students the opportunity to learn how to program robots using a free copy ROBOTC 4.0 (including the new Graphical Natural Language) for Robot Virtual Worlds programming software. If you've always thought that ROBOTC was too difficult, you should try out the new Graphical Natural Language, which is part of ROBOTC 4.0!
Live Webinar Course Schedule:
June 16: Introduction to Software, Setup, Forums and Procedures used in this course.
June 17: Intro to Expedition Atlantis and Moving Forward
June 23: Turning and Intro to Ruins of Atlantis
June 30: Forward until Touch and Forward until Near
July 7th: Turn for Angle, Forward until Color, Intro to Palm Island
July 14th: Loops and if/else
July 21st: Repeated Decisions, Continuous Decisions, Intro to Operation Reset
July 28th: Joystick and Button control, intro to VEX IQ Highrise
All courses will be held at 1:00 PM Eastern Standard Time with a live instructor. A link will be available in the CS2N Moodle course for each session. All sessions are recorded so that you can take the course at your own pace. These dates are subject to change.
And don't forget to sign up for our Robotics Summer of Learning Newsletter to get important reminders and information throughout the summer!
In my last post about the VEX IQ building system I had a small video featuring my VEX Quadruped.  I've done a bit of work on it since then and the gait has been greatly improved.  I also added some small rubber feet on the legs.  These are the traction links from the Tank Tread & Intake Kit.
Due to the heavy load that these motors are under, you may find that the batteries will run down a bit faster than you're used to.  Good thing the kits come with a charger!
Up next on the agenda is to add some sensors and have it interact a bit more.  The little wheels on the bottom are not used when it is walking; the robot is fully lifted off the ground.
I've taken some picture, so you can see how it's put together.  These should be enough to copy the design, should you wish to.  You can download the program to run this here: [LINK].  Note that part of the code is based on the excellent guide on creating an Arduino based quadruped: [LINK].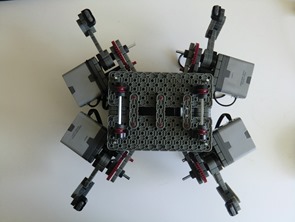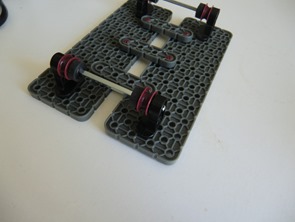 The ROBOTC Professional Development courses offered by Carnegie Mellon Robotics Academy are filling up quickly. Register today to make sure you get into your preferred course!
On-Site Training
Take one of our week long on-site courses in Pittsburgh, PA at the National Robotics Engineering Center (NREC). NREC is part of the Carnegie Mellon University Robotics Institute, a world-renowned robotics organization, where you'll be surrounded by real-world robot research and commercialization.
ROBOTC for LEGO / TETRIX
July 7 – 11, 2014
July 28 – August 1, 2014
ROBOTC for VEX CORTEX
August 4 – 8, 2014
Online Training
Enjoy the convenience of taking Robotics Academy courses without leaving your own computer workstation with our online classes.
ROBOTC Online Training for TETRIX
July 21st – 25th, 2014
Monday – Friday for 1 Week
3-5:00pm EST (12-3:00pm PST)
ROBOTC Online Training for VEX CORTEX
July 28th – August 1st, 2014
Monday – Friday for 1 Week
3-5:00pm EST (12-3:00pm PST)
ROBOTC Online Training for VEX IQ
August 11th – 15th, 2014
Monday – Friday for 1 Week
3-5:00pm EST (12-3:00pm PST)
The Carnegie Mellon Robotics Academy's Professional Development courses provide teachers and coaches with a solid foundation for robot programming in the respective languages, and experience in troubleshooting common student mistakes. It also focuses on identifying and extracting academic value from the naturally occurring STEM situations encountered in robotics explorations. All participants who complete the course will receive a Robotics Academy Certification. Find out more here – Robotics Academy Professional Development

The Robot Virtual Worlds team is proud to announce the availability of their new iPad app, Expedition Atlantis. Expedition Atlantis immerses you in a world of underwater robotics exploration, where you must solve math problems to control your robot's movement in the deep seas ruins.

The math problems will help students understand proportional relationships and the basics of robot programming. It is designed for the student to learn as they play, and includes in-game tutorials to help them play along. As you play, you'll be able to customize your robot, and also earn achievements through our Computer Science Student Network (CS2N). A full teacher's guide for using Expedition Atlantis in the classroom is available at www.robotvirtualworlds.com/ipad.


Expedition Atlantis was tested in a number of diverse classroom settings. In every case, students had measurable gains in proportional understanding, as well as increased interest in math and robotics. Read more about the research here!





As you play along with the app, please send us your feedback at support@robotvirtualworlds.com! We'd love to know what you think and any improvements we can make.