Archive for the 'Cortex' Category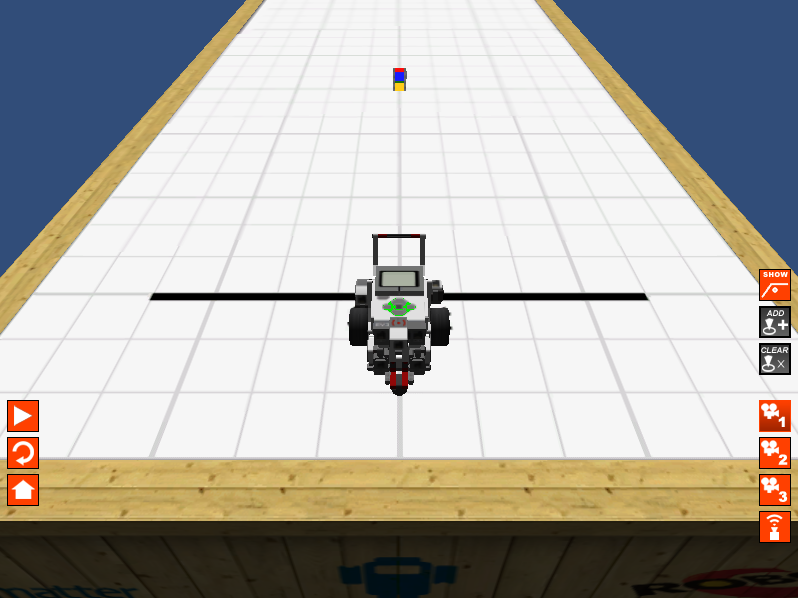 Xander over at BotBench goes into detail in a new blog post about using Robot Virtual Worlds (RVW) inside a Virtual Machine.
He talks about how some of the issues you might encounter using a VM and some of the solutions he has found. Such as the 3 camera settings in RVW:
1. Follow mode: you can use the wheel to zoom in and out.
2. Camera view from above
3. Free movement: hold left button and move to move the view. The wheel is used for zooming.
Unfortunately, if you run RVW inside a VM, camera option 3 does not work. Unless, of course, you know how to configure VMware Workstation properly. To find out how to configure properly and to read the full article, click here!
The ROBOTC Development Team is very excited to announce our latest BETA release, ROBOTC 4.28 BETA. This update is for the VEX Robotics (Cortex EDR and VEX IQ) robotics systems and includes new features, functionality and a load of bug fixes!
This new BETA release of ROBOTC includes the brand new "Natural Language 2.0″ libraries for the ROBOTC Graphical interface.
The new Natural Language 2.0 for Cortex allows users to customize and use their own robot configurations with our new Graphical Interface.
In addition, users can also program their VEX Cortex Competition Robots using our new "Graphical Competition Template"!
We'll have more videos and tutorials on using the VEX Cortex Graphical Language mode in the near future, but try out the new software today and let us know what you think!
To download the 4.28 BETA, use the following links:
Important Setup Information for ROBOTC 4.28 Beta:
VEX IQ Users:
Run the "VEX IQ Firmware Update Utility" and update your VEX IQ Brain to firmware version 1.13 (may not be available at time of release, but will be available soon).
Users will also have to update their VEX IQ Wireless Controller in addition to any other VEX IQ Devices (sensors, motors) that may need to be updated as well.
After updating to the latest VEX IQ Brain firmware, users will also have to install the latest ROBOTC firmware from inside of ROBOTC.
VEX Cortex Users (with Black VEXnet 1.0 Keys):
You will need to update your VEX Cortex and VEX Game Controllers with Master Firmware Version 4.23 from inside of ROBOTC.
After updating the master firmware, users will also have to update the VEX Cortex with the latest ROBOTC firmware as well.
VEX Cortex Users (with White VEXnet 2.0 Keys):
The new VEXnet 2.0 keys have a specific "radio firmware" that you will need to upgrade to enable "Download and Debugging" support. You can download the VEXnet Key 2.0 Firmware Upgrade Utility here.
Download the "VEXnet Key 2.0 Firmware Upgrade Utility" and insert your VEXnet 2.0 key to any free USB port on your computer. Follow the instructions on the utility to update each key individually. All VEXnet 2.0 keys must be running the same version in order to function properly.
After updating your VEXnet 2.0 keys, you will need to update your VEX Cortex and VEX Game Controllers with Master Firmware Version 4.23 from inside of ROBOTC.
After updating the master firmware, users will also have to update the VEX Cortex with the latest ROBOTC firmware as well.
ROBOTC 4.27 -> 4.28 BETA Change Log:
All – Updated Help System Documentation for new commands and features.
All – Updated Firmware for 10.28 / 4.28 compatibility.
All – Added a compiler error when 'switch' expression was illegal.
All – Support for optional "int" keyword as in the declaration "short int" or "int short" in addition to "short".
All – Add USB Joystick control to Graphical (in loop blocks)
Cortex – Fixed issue where performing a new motor PID movement when an existing PID movement is in progress didn't work properly.
Cortex – Allow users to select "Xmtr2″ for VEX Cortex Graphical (Expert and higher menu level)
Cortex – Added competition control and competition template for Cortex Graphical
Cortex – Added Virtual Worlds Natural Language 2.0 Library for VEX Cortex
Cortex – Renamed old-style Natural Language mode to "Natural Language PLTW"
Cortex – Fixed issue where software inspection would fail without a radio link on VEX Cortex
Cortex – Added dialog message to Cortex "Download Firmware" button on large icon toolbar.
Cortex – Multiple incomplete consecutive PID moves. Fix issue when current move is in "ramp down" and new PID movement is initiated.
VEX IQ – Added additional standard models for VEX IQ.

VEX IQ – Fix issue where mode wasn't being set for Graphical for VEX IQ Color Sensor.
Happy Programming!
Executive director of China ROBOTC, Terry Sy, shares their latest robotics competition adventure with us from the 2014 Asia-Pacific Robotic Championships. Read about it below …
—————————————————————————————————————————————————————————————-

The Asia-Pacific Robotic Championships 2014 were held in Dongguan, China from December 1st to December 4th. The first time in its history, China ROBOTC took 4 teams down there to compete. Among those making the trip down to the southern city were a China ROBOTC VEX team, Qingdao ROBOTC Boca Primary School team, Qingdao ROBOTC Boca Secondary School team, and ROBOTC-Experimental Primary School team affiliated to Shaanxi Normal University.
All the team members had a great time, competing in both the VEX and the VEX IQ competitions. Many new friendships were forged and the fantastic experience will be cherished by all those who took part for many years to come. But our teams weren't just going down there to make friends and have fun. They had come to challenge for the championships.
Altogether, the teams had a lot of success in their respective competitions. In the VEX IQ programming skills competition, one of our primary schools took first place, while the other was a close runner-up. In addition, our secondary schools joined the primary school with a first-placed finish. Meanwhile, in the team competition, our elementary school and secondary school both finished in the runner-up position. As well as this, one member from the primary school and one member from the secondary school excelled in the robot skills competition, both taking 2nd place, and they also received 3 gold awards in IQ and an inspire award in VEX to cap off a fantastically successful event.
Well done to all those students who took part, and keep up the good work!
– Terry Sy
Carnegie Mellon Robotics Academy is excited to announce their latest online training schedule, which starts in February. Register for the VEX CORTEX and/or the VEX IQ class today! Enjoy the convenience of taking Robotics Academy courses without leaving your own computer workstation.
Benefits of our Online Training:
– Assisted training using provided hardware and software
– Screen sharing amongst the class
– Networking opportunities with other professional educators
ROBOTC Online Training for VEX CORTEX
Feb 17th – Mar 24th, 2015
Tuesdays for 6 Weeks
6-8:00pm EST (3-5:00pm PST)
* Graduates Earn a Robotics Academy Certification!
ROBOTC Online Training for VEX IQ
Feb 16th – Mar 23rd, 2014
Mondays for 6 Weeks
6-8:00pm EST (3-5:00pm PST)
* Graduates Earn a Robotics Academy Certification!
We are thrilled to announce a brand new, FREE Robot Virtual Worlds app for the iPad! The Robot Virtual Worlds app allows you to start learning how to program both simulated VEX IQ and fantasy robots using ROBOTC Graphical.
Click here to to open the Robot Virtual Worlds App in iTunes!
The current version of the app will allow you to use the Basic Movement commands from ROBOTC Graphical to control the robot (forward, backward, turn right, turn left), along with the robot's grippers and arms to interact with objects in the environment. We believe this is a great teaching tool to include with the Expedition Atlantis iPad app as well as a teaching tool for ROBOTC Graphical!
Check out our video of the app in action…
And as always, if you have questions or feedback, feel free to contact at support@robotc.net or visit our forums! Happy programming!!
We LOVE getting Twitter posts sent to us about ROBOTC. In the last few months, you have shared some great posts and pictures with us. We decided to make a compilation of some of our favorites to share here…
#robotup #jochos máquina de hot dogs básico con robotc vex robotics https://t.co/LLZBBxQwlu

— REVOLUTION UP (@up_revolution) December 3, 2014
Another GREAT day building and programming. Keep on working on those main meals! @ROBOTC @VEXRobotics #pltw #STEM pic.twitter.com/zFEEzUN5jW

— R Hartley (@MrRHartley) December 3, 2014
My #vex robot arrived, #Robotc here I come pic.twitter.com/NMXBSldHId

— Michael Washington (@ADefWebserver) November 22, 2014
@phsengineering @CharMeckSchools @PLTWorg LOVE working with test boards for ROBOTC with my partner @ShaneSwisher pic.twitter.com/EZj9xPPvKt

— Jacob Egger (@JacobEgger) November 19, 2014
AWESOME Race Cars with @VEXRobotics and @ROBOTC pic.twitter.com/88F3dEp70A

— R Hartley (@MrRHartley) November 19, 2014
Writing code to accomplish tasks in @RobotC virtual worlds is unbelievably satisfying. I just did air karate chops! #nerdpower

— Danielle Maletta (@pimathnerd) November 18, 2014
Team 4606A working hard on our first build day of the year! @VEXRobotics @ROBOTC #robots #betterlatethannever pic.twitter.com/vepnDjwLKO

— NWMS Robotics (@NWMSRobotics) November 15, 2014
looking at my students ROBOTC programs. always interesting approaches. Trying to get them to include comments. #middleschool #robotics

— Anna Lynn Martino (@annalynnmartino) November 13, 2014
#tmstsa #robotics team students learning how tp program! #robotc @Linc_R3 @TMS_Trojans pic.twitter.com/bTJ69OJZEg

— Brandon Franck (@B_MrFranck) November 13, 2014
@ROBOTC Thanks for providing a great software for our programming pic.twitter.com/tVRGPgBxIa

— Metal Marauders (@MetalMarauders) November 8, 2014
With @MrRHartley learning robotC. Programming like a boss! pic.twitter.com/6GPmxMcLJs

— Seth Morgan (@morganstem) November 6, 2014
Learning to program Input and Output devices using RobotC language. #POE #PLTW pic.twitter.com/0xdF58Cjmh

— GHS Engineering (@GHSEngineering_) October 29, 2014
Do you have a ROBOTC picture/video/post you would like to share with us on Twitter? If so, include #ROBOTC or @ROBOTC in your message.
Just in time for Thanksgiving break, we're releasing an update to our VEX IQ Highrise and Beltway Robot Virtual World! Thank you to everyone who has been participating and giving feedback so far! (Note that the Beltway game is part of the VEX IQ Highrise RVW Download.)
We've implemented tons of new features based on your feedback. Some of the highlights:
There are two new modes for playing Beltway, a 5 minute competition mode, and an unlimited mode for those of you who would like to get the highest possible score
You can now switch robots and starting points while playing the game, allowing for greater variety in programming solutions.