Archive for the 'STEM' Category
FIRST TECH Challenge invited us to participate in their Summer Conference this week! Tim Friez, Senior Software Engineer, shared some advanced concepts in using ROBOTC such as understanding more about the Debugger, using 3rd Party Sensors, and coding practices to make your team more efficient and productive to develop reliable competition code. Check out the video below featuring his full presentation …
We were delighted to hear about an inaugural weeklong robotics summer camp happening in North Carolina that is using ROBOTC, ROBOTC Graphical, and the VEX Robotics IQ system to help teach students STEM while keeping them connected to their military families. (One of the mentors was trained at the Robotics Academy last summer too!) Read the story and watch the video highlighting this program below!
Reblog from East Carolina University's News Service
POSITIVE CONNECTIONS
ECU partners in Operation LINK mentoring program
Ten-year-old Tyrrek Grizzle took control of his paddle, maneuvering his miniature land mover with ease.
He and a teammate moved his robot across a grid and past an opponent to pick up as many green-colored blocks as possible and dump them in a coordinating green basket. The team that filled the basket with the most blocks in the three-minute competition won.
Grizzle attended an inaugural weeklong robotics summer camp through Operation LINK, an AmeriCorps school-based science, technology, engineering and mathematics mentoring program for elementary and middle grades students in eastern North Carolina. The STEM program, with a special emphasis on students from military families, will transition from an afterschool program to part of the regular school day this fall.
Offered this spring in Wayne County, the program aims to promote positive behaviors and success in school while keeping military youth connected to family. It's a partnership between East Carolina University, AmeriCorps, military family support networks, veterans groups, community colleges and public schools.
The summer camp, held at Greenwood Middle School in Goldsboro, allowed students to make real robots from designs they developed in their afterschool program.
Counselors and campers used a box kit to construct a robot with up to 650 pieces. A software program (ROBOTC) developed at Carnegie Mellon Robotics Academy gave the students the ability to control movements.
"We had fourth-graders writing code," said Michael "Mike" Dermody, associate professor of cinematic arts and media production in the ECU School of Art. Dermody, who grew up in a military family, said "It's amazing how quickly they adapt. It's a very tactile and hands-on experience. They go in and test and modify it. There's lots of activity between the computer itself and the robot."
For Grizzle, a rising fifth-grader at Tommy's Road Elementary School, taking his work from the computer lab to create a functioning robot is exciting. "Robots help you in a lot of ways," said Grizzle. "They help us do things we can't normally do ourselves." Grizzle has cousins who serve in the military.
The pilot program will become part of the curriculum this fall at three Wayne County schools with a higher population of children from military families, said Lou U. Rose, Operation LINK coordinator in the ECU College of Education, which has facilitated the program.
"We will be able to impact more kids that way."
Area teachers observed some of the program activities. "Some will do it as an elective in science and math classes," Rose said.
"The beauty of this is they can tailor it and run with it and be creative. It brings relevancy in the real world, and maybe will get students interested in science."
Michael Giddens, an AmeriCorps camp mentor who earned a teaching certificate in middle grades science and math from ECU in May, said students learned to collaborate and work as a team at the camp.
"The energy has been electrifying," Giddens said. "Keeping them (students) engaged is a challenge in the classroom in the 21st century."
One old-fashioned value students have learned has been patience, Giddens said, such as when broken robots have had to be re-assembled. Now poised to reach more students, the initial idea for the Operation LINK program was to create a way for military parents to interact with their children – via the web – while the parents were away from home. "It's (been) a way to keep the child connected," Dermody said.
Amy Perry's nine-year-old daughter Kayla and 10-year-old daughter, Alexis, participated in the afterschool program. Perry, a technical sergeant in the U.S. Air Force, inspects aircraft for defects at Seymour Johnson Air Force Base. The Perry family doesn't have a computer, internet or cable in their home. So the program has helped support her girls' interests in science and technology. "It works for us," she said.
Perry said the counselors encouraged her daughters' unique personalities. "It's allowing them to have the space to be who they are," she said. "Respecting others is important."
Kayla Perry said she enjoyed the computer lab and making a virtual robot. "I like the teachers. All the time they think of cool things for us to do," she said. "They always come up with these amazing ideas."
Program activities have helped build relationships between mentors and students, and among students, said Virginia Harris, a retired teacher and military spouse who taught 23 years in several states and overseas.
"I've seen changes in the students, being able to work together and learning to follow rules better," Harris said. "One of the main things they learn is you're not an island. You have to get along with people in life. I think it's difficult for little people to work together as a team sometimes."
To learn more, visit www.ecu.edu/operationlink.
Reblog from
East Carolina University's News Service
ROBOTC user, Sigtrygg (forum name), recently shared a project on the ROBOTC forums that they have been working on called the NXT Room Explorer Bot with Mapping Functions. Check out the YouTube video of the robot in action …

Sigtrygg description and breakdown of the bot …
The robot is based upon a standard REM-Bot but in addition equipped with a HiTechnic gyro, HiTechnic compass sensor and an omni-wheel. First the robot moves about 360° to calibrate the compass using the gyro (thank you to Xander Soldaat for code!). Then the robot moves its sonar-head to the right, to the left and in front position to get the distances according to its position. After doing this it turns around to the wall with the minimum distance and drives in front of it until sonar sensor detected a minimum sensor distance, e.g. 20cm. Then the robot turns parallel to the wall, moves his sonar-head to the right detecting the distance to the wall and drives counter clockwise parallel to the wall balancing distance. A mapping-task records the compass and odometry data every second and calculate the polar coordinates to cartesian coordinates (x,y). The coordinates are written as "map.txt"-file. So you can use Excel or an other program to draw the path which the robot had moved. In addition to that you can follow the path at the NXT-LCD-screen. I had to choose a scale for it, so you have to suit the scale to your room size. If the robots touch sensor has detected an obstacle the robot moves back and turn left for 90 degrees and continuous his explorer-duty always running counter clockwise with wall to the right. How to expect the end of path doesn't suit exactly to the beginning because of inaccuracies of compass and odometry measures.
To read more about this project, check out the ROBOTC Forum post here!
We are excited to give you a preview into our newest curriculum series: The Introduction to Programming VEX IQ with ROBOTC. The website is still in-the-works, but it should be completely ready by August. The focus for this curriculum is on the VEX IQ virtual and/or physical robot and the ROBOTC 4.0 software featuring the new  graphical function. It consists of videos, PDFs, quizzes, and our famous easy to use step-by-step videos. Check out some of the videos of from our curriculum series …


The Introduction to Programming VEX IQ with ROBOTC is a curriculum module designed to teach core computer programming logic and reasoning skills using a robotics engineering context. It contains a sequence of projects (plus one capstone challenge) organized around key robotics and programming concepts.
Why should I use the Introduction to Programming EV3 Curriculum?
Introduction to Programming provides a structured sequence of programming activities in real-world project-based contexts. The projects are designed to get students thinking about the patterns and structure of not just robotics, but also programming and problem-solving more generally. By the end of the curriculum, students should be better thinkers, not just coders.
What are the Learning Objectives of the Introduction to Programming VEX IQ Curriculum?
Basic concepts of programming

Commands
Sequences of commands

Intermediate concepts of programming

Program Flow Model
Simple (Wait For) Sensor behaviors
Decision-Making Structures
Loops
Switches

Engineering practices

Building solutions to real-world problems
Problem-solving strategies
Teamwork
For more info and to see the online version of the curriculum, visit http://curriculum.cs2n.org/vexiq.

An article titled, "Robots Are Everywhere! Learning About Technology From Robotics" was recently published on the Huffington Post website featuring the Carnegie Mellon Robotics Academy! The author, Dr. Julie Dobrow from Tufts University, reached out to some of the staff at the Robotics Academy to get their take on robotics in the classroom. Here are some excerpts from the article …
The "Robotics Academy" at Carnegie Mellon University features a variety of tips for educators and parents on using robotics to teach kids about math, science, engineering and physics. Their extremely well-organized website offers curricular information, products and support to demonstrate ways to use both VEX systems (essentially a kit with all the component parts that enables kids to build a robot) and LEGOs to teach many STEM principles. All of their work and products are based on extensive research.

Robin Shoop, Director of the CMU Robotics Academy, believes that some of the work they are doing at CMU can make learning come alive. "Robots provide the hook that can be used to excite students about STEM academic concepts. Robotics activities in and of themselves will not improve STEM academic performance, but if robotics technologies are introduced correctly, and the STEM academic concepts are properly foregrounded, then robotics provides an excellent organizer to teach kids about STEM."

Ross Higashi, lead curriculum developer at CMU says, "It's a common misconception that involving robots in a curriculum or afterschool program makes STEM magic happen. That's simply not true… Robotics presents a wealth of opportunities to teach meaningful content. But doing that, it's not trivial. It's hard work. You need well-targeted lessons, and you need a teacher who can support students who are learning by doing. In the end, though, as many students and teachers will tell you: it's absolutely worth it, and the hardest fun they've ever had."

And kids do have fun. And not only kids. Jason McKenna, a K-8 teacher in the Hopewell(PA) Area School District who works with the CMU Robotics Academy points out that it's the combination of high engagement, the ability to teach each student at his or her instructional level and provide opportunities for differentiated engagement "that makes Robotics such fun for me as a teacher."
The China ROBOTC team sent us some great photos from the China International Robotic Show in Shanghai, which they'll be at from July 9-11. We will update the photos here and on our Facebook page as we get them from the weekend!
Did you know that you can sign up for the
Robotics Summer of Learning
anytime during the summer? All our live webinars are recorded, so you can easily
sign up today
and work at your own pace!
FAQ

How do I join and get into the class?
Sign in or sign up for a new account at CS2N.org. Then visit http://cs2n.org/summer-of-learning and click on the VEX IQ robot. You'll be taken to a new page where you will click "View" under "Summer of Learning 2014 – VEX IQ – Intro." From there you will be in the official Summer of Learning course!
How much does this course and/or software cost?
Nothing at all! It is free until September 1, 2014.
What do I need to download?
ROBOTC and the VEX IQ Challenge Pack. You need to download both items. The License ID and Password is located in the CS2N Moodle Course. Use these to activate the license for the entire summer (through September 1st). Computer Minimum Requirements.
Where can I find the link for the live classes?
The link is at the top of the section for the topic of that class. For example, if the topic for the live class is turning, the link will be at the top of the basic movement section. This is also where you will find the recording after the live class has ended.
What is the class schedule?
The live class schedule is listed below, but remember that you can work throughout the summer at your own pace. All classes are recorded. Just keep in mind that if you work ahead, some items of the curriculum will not be released until later this summer.
Will I be able to use the ROBOTC Graphical with EV3 and/or NXT? And, will there be a RSOL class for that?
ROBOTC for LEGO MINDSTORMS is still in development, but it will be available later this summer. Once it is ready, there will be a Robotics Summer of Learning course specifically for it.
Live Webinar Course Schedule
June 16: Introduction to Software, Setup, Forums and Procedures used in this course
June 17: Intro to Expedition Atlantis and Moving Forward
June 23: Turning and Intro to Ruins of Atlantis
June 30: Forward until Touch and Forward until Near
July 7th: Turn for Angle, Forward until Color, Intro to Palm Island
July 14th: Loops and if/else
July 21st: Repeated Decisions, Continuous Decisions, Intro to Operation Reset
July 28th: Joystick and Button control, intro to VEX IQ Highrise
Our Robotics Summer of Learning (RSOL) course opens this Sunday, June 15 with our first live webinar course starting on Monday, June 16! The RSOL gives students the opportunity to learn how to program robots using a free copy ROBOTC 4.0 (including the new Graphical Natural Language) for Robot Virtual Worlds programming software. If you've always thought that ROBOTC was too difficult, you should try out the new Graphical Natural Language, which is part of ROBOTC 4.0!
Live Webinar Course Schedule:
June 16: Introduction to Software, Setup, Forums and Procedures used in this course.
June 17: Intro to Expedition Atlantis and Moving Forward
June 23: Turning and Intro to Ruins of Atlantis
June 30: Forward until Touch and Forward until Near
July 7th: Turn for Angle, Forward until Color, Intro to Palm Island
July 14th: Loops and if/else
July 21st: Repeated Decisions, Continuous Decisions, Intro to Operation Reset
July 28th: Joystick and Button control, intro to VEX IQ Highrise
All courses will be held at 1:00 PM Eastern Standard Time with a live instructor. A link will be available in the CS2N Moodle course for each session. All sessions are recorded so that you can take the course at your own pace. These dates are subject to change.
And don't forget to sign up for our Robotics Summer of Learning Newsletter to get important reminders and information throughout the summer!
In my last post about the VEX IQ building system I had a small video featuring my VEX Quadruped.  I've done a bit of work on it since then and the gait has been greatly improved.  I also added some small rubber feet on the legs.  These are the traction links from the Tank Tread & Intake Kit.
Due to the heavy load that these motors are under, you may find that the batteries will run down a bit faster than you're used to.  Good thing the kits come with a charger!
Up next on the agenda is to add some sensors and have it interact a bit more.  The little wheels on the bottom are not used when it is walking; the robot is fully lifted off the ground.
I've taken some picture, so you can see how it's put together.  These should be enough to copy the design, should you wish to.  You can download the program to run this here: [LINK].  Note that part of the code is based on the excellent guide on creating an Arduino based quadruped: [LINK].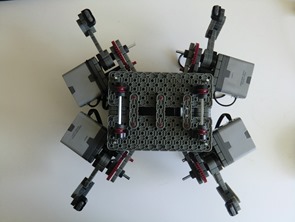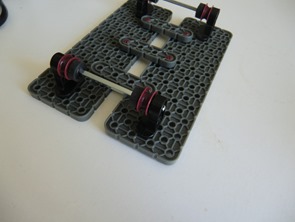 The Robot Virtual Worlds team is proud to announce the availability of their new iPad app, Expedition Atlantis. Expedition Atlantis immerses you in a world of underwater robotics exploration, where you must solve math problems to control your robot's movement in the deep seas ruins.

The math problems will help students understand proportional relationships and the basics of robot programming. It is designed for the student to learn as they play, and includes in-game tutorials to help them play along. As you play, you'll be able to customize your robot, and also earn achievements through our Computer Science Student Network (CS2N). A full teacher's guide for using Expedition Atlantis in the classroom is available at www.robotvirtualworlds.com/ipad.


Expedition Atlantis was tested in a number of diverse classroom settings. In every case, students had measurable gains in proportional understanding, as well as increased interest in math and robotics. Read more about the research here!





As you play along with the app, please send us your feedback at support@robotvirtualworlds.com! We'd love to know what you think and any improvements we can make.