Archive for the 'Robot Virtual Worlds' Category
​

Have You Explored New Worlds with ROBOTC?

ROBOTC has provided you with many challenges and learning opportunities, but did you know you can explore exciting new virtual worlds without downloading anything new? Try out Robot Virtual Worlds for FREE in ROBOTC with a 10-day trial!

See the instructions to get started at the bottom of this email!

​
​

What are Robot Virtual Worlds?

Robot Virtual Worlds are high-end simulation environments that enables users, without robots, to learn programming with game and competition worlds. Watch our video for more information!

​
​

Game Worlds!

Escape to one of our fantastic game worlds where you can use your programming skills to explore and complete challenges!

​
​

| | | |
| --- | --- | --- |
| We thought Atlantis was a myth. We were wrong. Your mission is to explore the Ruins of Atlantis, 6,000 meters below the surface of the ocean, collecting data and treasure as you do. | Visit the beautiful Palm Island and program your robot to drive along its boardwalk path. Collect coconut clusters and set lobster traps for the Luau. | The mining colony of Alpha Base H99 needs your help! A terrible storm has damaged the colony's equipment and we need you to use your programming skills to complete the mission. |

​
​

Virtual Challenges!

Practice your programming skills with virtual versions of popular robotic competitions or challenging obstacle courses.

​
​

| | | |
| --- | --- | --- |
| Practice valuable programming concepts with a variety of activities using the curriculum companion. Use the same ROBOTC code to program your real and virtual robots! | The RVW Level Builder provides a 12'x12′ square field to build on and several objects – from cans and boxes to line tracking tiles – that you can use to design challenging, unique, and fun levels! | Not sure how far to make your robot move? Use the virtual measurement tools to calculate the distance and angles needed to move around in the virtual worlds! |

​
​

Starting your Virtual Worlds trial:

1.  Open ROBOTC (from the icon on your desktop or Start Menu).

2.  Click "Help"
in the menu and select "Manage Licenses".

​
​

| | |
| --- | --- |
| 3.  Click "Add License" in the menu and select "Robot Virtual Worlds – LEGO" from the Product drop-down. | |

​
​


4.  Click "Start Trial".

5.  Click "Close".




​
​

Using Virtual Worlds:

1.  Click "Robot" in the menu and set the "Compiler Target" to "Virtual Worlds".

​
​

| | |
| --- | --- |
| 2.  Click "Window" in the menu and set "Select a Virtual World to Use" to any of the virtual worlds installed. | |

​
​

Visit robotvirtualworlds.com to explore and download more levels!

If you need to go back to programming your physical robot, select "Physical Robot" from the "Compiler Target" menu.

​
The Robotics Education and Competition (REC) Foundation is
pleased to announce the winner of the 2015 Robomatter Scholarship, valued at $5,000 which invited students participating in the VEX Robotics Competition to submit an essay explaining how their participation in both the VEX Robotics Competition and the Carnegie Mellon Robotics Academy sponsored Robot Virtual World Competition enhanced their understanding and application of programming. In addition, students were encouraged to share how programing skills and use of ROBOTC improved their robotics experience.
"It's rewarding to hear that students, like Max Farr, gain valuable hands-on experience in programming through participation in the VEX Robotics Competition," said Jason Morrella, president of the REC Foundation. "The REC Foundation is extremely grateful to partners, such as Robomatter, who make it possible for students to secure the resources they need to continue their education and pursue a post-secondary degree in STEM."
The winner of the 2015 Robomatter Scholarship is: Max Farr, VEX Robotics Competition Team 21, from CHAMPS Charter High School in California.
"As our team's driver and programmer, I rely on ROBOTC's easy and approachable format to enable me to quickly plan, set up and execute commands that improve our game strategy and overall execution," said Max Farr. "I also rely on Robomatter's Virtual World at the beginning of every season to better understand the game and quickly begin brainstorming robot designs."
The 2015/2016 season is now open with VEX IQ Challenge Bank Shot and VEX Robotics Competition Nothing But Net. Both games are available through the Robot Virtual Worlds too!
For more information about the REC Foundation and the scholarship program, please visit www.RoboticsEducation.org. And for more information about Robomatter, please visit www.Robomatter.com.
The Robot Virtual Worlds team is thrilled to announce the availability of two brand new virtual environments, the VEX Robotics Competition – Nothing But Net and VEX IQ Challenge – Bank Shot Robot Virtual Worlds. As in years past, these worlds were made available at the same time as their real world counterparts were unveiled at VEX Worlds!
The competitions for this year are both extremely exciting; teams will actually need to shoot balls into goals. The purpose of these virtual environments is to provide teams with an environment that allows for some strategic planning, and to act as a platform to start programming with the same kinds of motors and sensors that are available in the real world. To that end, we've added exciting new "Launchbots" that are capable of shooting balls across the field and are fully programmable with a full array of motors and sensors. One feature we're really excited about is the "trajectory line", which shows exactly where your shot will go based on the robots angle and motor power! Game scoring, timing, pre-loads, match loads, climbing, and other elements are all implemented, too.
Launchbot shooting a ball into the red net:


Check out our video of the VEX Robotics Competition – Nothing But Net RVW in action:


Launchbot IQ aiming a shot into the common goal:


And here is footage from the VEX IQ Challenge – Bank Shot RVW:


To help you get started with these new Robot Virtual Worlds, we are providing a FREE summer license, available at: http://robotc.net/vex/. Our video-based VEX IQ Curriculum is also available completely for free to help you get started with programming.
Click here for more information on the VEX Robotics Competition – Nothing But Net Robot Virtual World, and here for the VEX IQ Challenge – Bank Shot Robot Virtual World.
We are excited to announce the Sarah Heinz House May Madness event for 2015! This year's event will take place Saturday, May 2 at the Sarah Heinz House in Pittsburgh, PA.
This Year's Game:
We will be using the VEX IQ Highrise game. Both VEX IQ and LEGO robots can compete! We will have claw bots of VEX IQ for you to use to compete if you wish! You can sign up for Remote control or Autonomous. The games will be scored separately.
Other games will include:
A grand challenge like game where students will not know the programming or building components until they arrive. They will then have to program and build to complete the challenge. Each student, or group of students, that completes this challenge will be winners of this competition.  You should know how to do things such as forward, turn, backwards, line follow.
Pick up the most VEX Highrise game cubes at once.
Must be able to start with the blocks on the ground and then raise them into the air.
A robot Parade where the robot must be able to follow the line, must be able to stop when it gets close to the float in front of it.
Robot Virtual Worlds – Beltway competition where you will play a modified version of the VEX Highrise game.
Lego Competition which will use the VEX IQ Highrise game elements.
VEX CORTEX (EDR) Competition where we will be hosting a VEX Skyrise scrimmage for teams who wish to try out VEX Skyrise in a competitive setting. We must have at least 8 teams sign up to have this competition!
Cost of Registration
The cost will be $20 per team. With this twenty dollars we will give you vex highrise cubes.
LIMITED SPOTS AVAILABLE!
The first 25 teams who register will be guaranteed a spot in May Madness. If you are registering more than one team then they will be placed in a waiting list.
To sign up and for more info, visit the Sarah Heinz House's May Madness page!
After last summer's on-site training at Carnegie Mellon Robotics Academy, Palisades Middle School's technology and computer teachers initiated semester STEM units featuring the VEX Cortex Clawbot, Robot Virtual Worlds software, and ROBOTC programming. 8th grade students now experience how to build and program a robot through collaborative teamwork.
In technology class groups of students learn about robotic systems and mechanics by building and remotely controlling a VEX Clawbot. In computer class students program the VEX Cortex Clawbot in a virtual, immersive environment using Robot Virtual Worlds software and through coursework provided by Carnegie Mellon Robotics Academy's CS2N Moodle-based learning management system. By combining their knowledge and skills in groups, students will ultimately compete using autonomous and remote-control programming in a class competition called, "Tic Tech Toe".
Julia, 8th grade middle school student
I attend Palisades Middle School and am in the 8th grade. I love how both our computer and technology class are combined. Being brand new to the whole experience of robotics, finding new ways to use technology educationally is something that really intrigues me. Currently I am in computer class and cannot compare it to anything else. Overall, the atmosphere and supportive people make this experience fun and worthwhile. It has introduced me to concepts that I didn't even know were possible and are very educational. For example, I have recently learned to use a very cool program called ROBOTC. Basically, ROBOTC is a program which allows you to give your robot "tasks". In my computer class we have been doing this quite a bit and I just love everything about it. Its a new and educational way for students to learn programming. My learning this at a young age really builds success for the future.
Lydia, 8th grade middle school student
Our technology and computer classes joined together while working on robotics. I really enjoyed being able to create and program robots. In our tech class each student was assigned a partner to build a robot and race it in a competition against fellow classmates. Our computer class involved robotic programming.We learned how to compile and download programs to a virtual robot and complete different challenges. This program was so much fun and I really enjoyed how we got to experience both "hands-on" and "hands-off" learning.
Making Robotics Real for Students
There is a real advantage in learning how to program in a virtual environment. Most programming courses offer 2-dimensional "Hello World" feedback. Robot Virtual Worlds gives students immediate 3-D feedback and opens their eyes to real-world programming applications. We have been pleasantly surprised with how students respond with interest to learning how to program when it's presented in this context.
Robot Virtual Worlds also offers an engaging method of project-oriented learning involving challenges. Students don't just program the robot to move, they learn what it would be like to manipulate a robot through various simulated environments. These environments called "worlds" could be a space mission, tropical island, or could even be student-designed obstacle field. These worlds have been effective in stimulating interest and maintaining learner engagement.
In addition to the classroom experience, our first semester students also visited a local robotics company and learned first-hand how their robotics experiences have real-world relevance. Students were given the opportunity to see actual robots in development and other related technologies. This visit got the student's attention, providing them with a better understanding of potential opportunities in engineering and programming.
We are anxious to continue this collaborative program. There was an initial investment in training, software, and hardware, but we feel that the return for the students is well worth it. In sharing our classes and resources, students are learning about information and machine technology in a unique way. We hope that this transfers over into their continuing studies and even future careers.
Are you interested in learning how to program in ROBOTC Graphical for VEX IQ or VEX IQ Robot Virtual Worlds? If so, then this YouTube playlist is for you! This set of videos will help you to get started programming with ROBOTC.
These videos are part of the Introduction to Programming VEX IQ Curriculum! To continue further with our free online training, visit our curriculum page here! http://www.education.rec.ri.cmu.edu/previews/robot_c_products/teaching_rc_vex_iq/
Jason McKenna, from the Hopewell Area School District outside of Pittsburgh, PA, writes about his experience in the classroom with the new Robot Virtual World game, VEX IQ Beltway. Check it out below …
——————————————————————————————————
The new VEX IQ virtual game Beltway is a great way to challenge your students to apply the basics of ROBOTC programming while also asking them to come up with unique strategies to try to score as many points in the 2 minute game as possible. My students just spent about 3 weeks working on the challenge and trying to score the highest score as possible. The students had an absolute blast and as a teacher, it was great seeing all the different ways the students tried to tackle this completely open-ended challenge.
The objective in Beltway is the same as VEX IQ Highrise: program your VEX IQ robot to autonomously score as many cubes as possible during a 2 minute period. With Beltway, a conveyor belt has been added around the perimeter of the game field in order to assist with game play. Additionally, the virtual environment utilizes "magic stacking" meaning that the cubes automatically jump onto the stack when they are placed onto of the stacking cube regardless of the apparent size of the robot. The conveyor belt reduces the accumulation of error, where, for example, a robot's slight error in one turn becomes a larger error when the robot repeats that same turn 4 or 5 times. Any time students attempt a long program with many different elements they will at some point become frustrated with the accumulation of error that occurs. Magic stacking and the large margin of error that enables easy pickup of cubes eliminates any frustration that the students may encounter as try to pick up cubes and then stack them. These elements of gameplay in Beltway allow students to focus on their strategy, and it also allows them to try to experiment with many different scoring methods because they are not spending a lot of time programming perfect 90 degree turns and aligning their robots perfectly to pick up a cube. You can click here for a more extensive list of rules and information about gameplay!
Beltway comes with a variety of sample programs that students can use to help them get started or as a reference as they adjust their strategies. For example, if students decided that they wanted to control the conveyer belt manually, they could refer to a sample program to see how that is done. I did that many times while monitoring the students. After a few days, the students aren't repeatedly raising their hands; instead, they just refer to the sample programs for guidance.
The game also served as a great tool to teach beginning programmers the utility of comments. Oftentimes, beginners don't make programs quite as long as the ones they will make for Beltway. Students quickly saw the need to point out what was going on in their code with comments so they could go back to those sections and make whatever adjustments they wanted as they progressed with their gameplay.
As I stated earlier, my students had a lot of fun while playing Beltway. It is not easy to keep students' interest level high in an activity that takes 3 weeks. The students maintained their level of interest and they consistently asked to stay after school to work on their programs some more. We had an in-class competition where the students ran their final programs. The winning team scored the winning points as the timer, literally, went to zero. It was pandemonium in my room. Kids were high-fiving each other, cheering, and remarking at how awesome the competition turned out. Students were also talking about the different strategies that the other teams used and how they could change their programs based upon what they had just seen.
So now, of course, the students want to play some more. This is great because now I can use that as an opportunity to show students how they can take some of the code that they used over and over again (for example, picking up cubes) and show them how they can use full ROBOTC to turn those behaviors into functions. Beltway has proven to be both a great teaching and learning tool in my classroom.
Click here to download the game!
- Jason McKenna
The Robot Virtual World team is happy to announce our latest updates are available for Ruins of Atlantis, Palm Island, and Operation Reset! We've included updated sample program to support all platform types (VEX CORTEX, VEX IQ, EV3, and NXT) within ROBOTC. You can also choose what type of sample program you would like to use from Graphical, Natural Language, or Standard.
Thanks again to everyone who has provided feedback! Please continue to do so at the ROBOTC.net Forums. Happy programming!
Want to earn a free Robot Virtual Worlds – Virtual Brick license? BotBench has an awesome license giveaway going on now. Be one of the first 20 people to write a review about it on your website, blog or Tumblr, and you'll receive a free license! Read more about it here!
Not sure what the Virtual Brick is? Check out our video …

Botbench also did a wonderful "First Look" blog on the Virtual Brick. Check it out here – Virtual Brick: A First Look – Making a Line Follower
Want to try out the Virtual Brick? You can download it here and when you do, you get a 10 day trial period.
Happy Programming!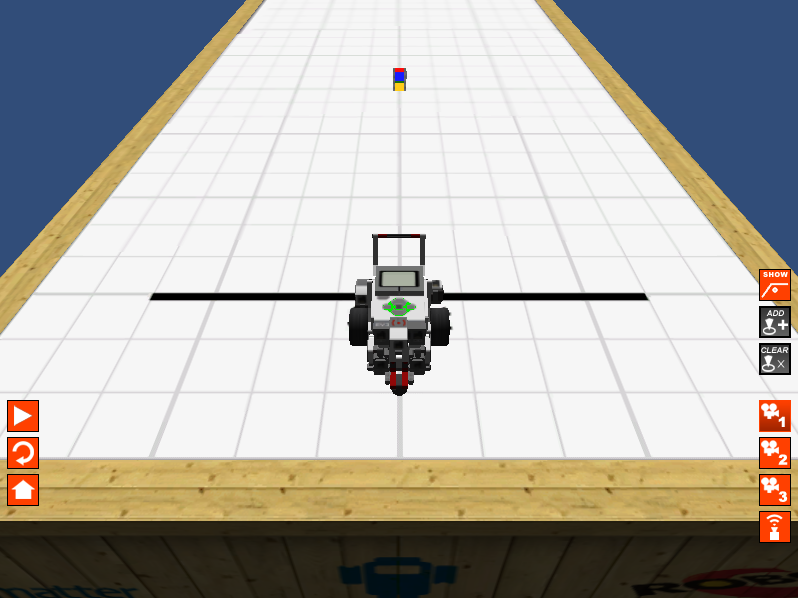 Xander over at BotBench goes into detail in a new blog post about using Robot Virtual Worlds (RVW) inside a Virtual Machine.
He talks about how some of the issues you might encounter using a VM and some of the solutions he has found. Such as the 3 camera settings in RVW:
1. Follow mode: you can use the wheel to zoom in and out.
2. Camera view from above
3. Free movement: hold left button and move to move the view. The wheel is used for zooming.
Unfortunately, if you run RVW inside a VM, camera option 3 does not work. Unless, of course, you know how to configure VMware Workstation properly. To find out how to configure properly and to read the full article, click here!