Archive for the 'NXT' Category
Our on-site (in Pittsburgh, PA) and online Summer Professional Development classes for VEX CORTEX, VEX IQ, and LEGO MINDSTORMS are filling up quickly. Register today to make sure you get into your preferred course (listed below!)
Acquire new skills with technology and new ways to teach STEM with robotics using innovative pedagogy!
No Prior Experience with Robotics or Programming required!
Hands-On Experience with 36 Contact Hours!
Learn directly from the curriculum and technology developers!
Here's What People Are Saying After Our Trainings:
"You guys were fantastic! This was some of the most enjoyable and informative professional development I've ever attended. The instructor was incredibly knowledgeable and always willing to offer help when needed. I would recommend the Robotics Academy to any teacher that is wanting to get into robotics education."
"I thought that just about every aspect of the sessions was valuable. As a person coming in with an almost zero knowledge base, I left feeling I had a strong sense of how things work and how I can immediately implement things in my classroom."
"Instructors were great … this stands as one of the most enjoyable workshops/courses I have taken in a VERY long time. I learned a lot, I had a good time, I was challenged … what course could hope for a better outcome than this."
———————————————————————————————————–
VEX and VEX IQ
ROBOTC for VEX CORTEX
July 6 – 10, 2015
July 27 – 31, 2015
ROBOTC for VEX IQ
June 22 – 26, 2015
July 13 – 17, 2015
Online Classes:
ROBOTC Online Training for VEX CORTEX
June 22 – 26, 2015
Monday-Friday for 1 week
3 – 5pm EDT (12 – 3pm PDT)
ROBOTC Online Training for VEX IQ
Jul 6 – 10, 2015
Monday-Friday for 1 week
3 – 5pm EDT (12 – 3pm PDT)
———————————————————————————————————–
LEGO
ROBOTC for LEGO
June 29 – July 3, 2015
July 20- 24, 2015
Online Classes:
ROBOTC Online Training for LEGO
Jul 13 – 17, 2015
Monday-Friday for 1 week
3 – 5pm EDT (12 – 3pm PDT)
We are excited to announce the Sarah Heinz House May Madness event for 2015! This year's event will take place Saturday, May 2 at the Sarah Heinz House in Pittsburgh, PA.
This Year's Game:
We will be using the VEX IQ Highrise game. Both VEX IQ and LEGO robots can compete! We will have claw bots of VEX IQ for you to use to compete if you wish! You can sign up for Remote control or Autonomous. The games will be scored separately.
Other games will include:
A grand challenge like game where students will not know the programming or building components until they arrive. They will then have to program and build to complete the challenge. Each student, or group of students, that completes this challenge will be winners of this competition.  You should know how to do things such as forward, turn, backwards, line follow.
Pick up the most VEX Highrise game cubes at once.
Must be able to start with the blocks on the ground and then raise them into the air.
A robot Parade where the robot must be able to follow the line, must be able to stop when it gets close to the float in front of it.
Robot Virtual Worlds – Beltway competition where you will play a modified version of the VEX Highrise game.
Lego Competition which will use the VEX IQ Highrise game elements.
VEX CORTEX (EDR) Competition where we will be hosting a VEX Skyrise scrimmage for teams who wish to try out VEX Skyrise in a competitive setting. We must have at least 8 teams sign up to have this competition!
Cost of Registration
The cost will be $20 per team. With this twenty dollars we will give you vex highrise cubes.
LIMITED SPOTS AVAILABLE!
The first 25 teams who register will be guaranteed a spot in May Madness. If you are registering more than one team then they will be placed in a waiting list.
To sign up and for more info, visit the Sarah Heinz House's May Madness page!
Are you interested in learning how to program in ROBOTC Graphical for LEGO MINDSTORMS EV3 or EV3 Robot Virtual Worlds? If so, then this YouTube playlist is for you! This set of videos will help you to get started programming with ROBOTC.
These videos are part of the Introduction to Programming EV3 Curriculum. To continue further with our free online training, visit our curriculum page here! http://www.education.rec.ri.cmu.edu/previews/ev3_products/robotc_ev3_curriculum/
We LOVE getting Twitter posts sent to us about ROBOTC. In the last few months, you have shared some great posts and pictures with us. We decided to make a second compilation of some of our favorites to share here…
HHS students in #PLTW Principals of Engineering working with Macbooks, #RobotC, and #Vex r… http://t.co/LYbV5V9X0Y pic.twitter.com/cMWx7SkzfH

— EdTech Baton (@EdTechBaton) February 25, 2015
Getting PCs ready so students new to VEX can play @VEXRobotics #skyrise using @ROBOTC Virtual Worlds @BigBangFair pic.twitter.com/WanfGCRcb1

— Chris Calver (@Chris_Calver) February 23, 2015
LHS Gov STEM Acad Intro to Robotics girls Working on RobotC coding certif @GirlsWhoCode @Principal4GT @BeachSupe pic.twitter.com/WsI0R8LiJc

— Dr. Jim Barger (@drjbarger) February 23, 2015
http://t.co/WmmriE6NAQ performance task in Robotics class was to score the most points in Labyrinth Challenge @ISManilaHS @ROBOTC

— Ringo Dingrando (@ringodin) February 23, 2015
Team 4606a is up first in qualifying rounds! Go Technomancers ! #millershift @ROBOTC pic.twitter.com/EvdfsHM3uQ

— NWMS Robotics (@NWMSRobotics) February 21, 2015
#PLTW POE #engineering Students have fun coding with RobotC @PrairieRidgeHS #girlpower #robotics pic.twitter.com/szpevoLJxX

— Prairie Ridge INC (@IndustryCareers) February 19, 2015
The #VEXIQ automated transit system from @Bett_show Programmed with @ROBOTC & built by @Chris_Calver – http://t.co/V48KEeocgw – #omgrobots

— Paul McKnight (@Chewmacca1) February 11, 2015
Nice auto run of 69 today. @ROBOTC encoder functions. #vexiq. pic.twitter.com/saGjCgU55L

— Triangle ES Robotics (@Triangle3615) February 6, 2015
Teaching our FLLers to use RobotC. pic.twitter.com/9QoPq3LNa7

— Higgs Bots (@ftc3085) February 5, 2015
Some awesome building today!! pic.twitter.com/bBFHCGEUQZ

— R Hartley (@MrRHartley) February 4, 2015
4th grade robotics class completes the Lego EV3 sonar sensor Maze Challenge using Graphical ROBOTC http://t.co/Eq8XeBAMLY

— Lancer Robotics (@LancerRobotics) January 29, 2015
@ROBOTC and Vex demo at Cooper Siegel Library was packed! Lots of future robotics engineers! pic.twitter.com/LvhPyPWC8R

— Droids Robotics (@droidsrobotics) January 28, 2015
Robots in the classroom always a winner. TechnologyNeducation reports on #RobotC as a teacher tech tool https://t.co/COSDaTvXFs #TechEd

— Regan White (@ReganWhite222) January 23, 2015
http://t.co/zMQkkiwFHx robotics race @ISManilaHS, programmed using ROBOTC, built with vex hardware

— Ringo Dingrando (@ringodin) January 22, 2015
Nothing like coding on the bus. On our way to the FIRST Tech Challenge – Maryland Annapolis tournament. #omgrobots #robotc

— RSHS Robotics (@RSHSRobotics) January 10, 2015
This is my 15 year old niece @BarbieMayaSofi #robotc program executing turns http://t.co/FG9mNoYCqU

— Michael Washington (@ADefWebserver) December 31, 2014
#RobotC is a pretty new #language I've been studying since the Fall. I have a new way to program my #robotics and retain old knowledge!

— Harli Quyn (@HarliQuyn) December 23, 2014
2 kids learning ROBOTC. It's always nice to see what your program is actually doing. I need to get The Finch! #schoollibrarian #robots

— Anna Lynn Martino (@annalynnmartino) December 19, 2014
easyC it's been nice working with you…. Hello RobotC !!! #switchinprogramming

— Volt Robotics 5194B (@VoltRobotics) December 18, 2014
#RobotsAreComing pic.twitter.com/OXtODzsOgx

— ScratchÖğren (@scratchogren) December 15, 2014
Hour of Code: Students Introduced to VEX Robotics & ROBOTC Programming http://t.co/z35lJ5sHYC pic.twitter.com/FD5fuByKx4

— Spring Valley (@SV_Vikings) December 12, 2014
Wanted to share this piece of awesomenessRobot team #latepost #robot #contest #RobotC… http://t.co/NUsSFoyhIm pic.twitter.com/VpNSOrylpX

— Clarke Hosp (@hospdesign) December 12, 2014
Do you have a ROBOTC picture/video/post you would like to share with us on Twitter? If so, include #ROBOTC or @ROBOTC in your message.
We recently asked a group of engineering students from the University of Aalborg in Denmark to write about their experience using ROBOTC on a recent project. Check it out below!
——————————————————————————————————————————————————————————
Hi all! We are 6 software engineering students from the University of Aalborg in Denmark. As part of our Bachelor's degree, we had to design and implement an embedded system, and we chose to design and implement a robot that would solve the Simultaneous Localization And Mapping (SLAM) problem. We called the robot ColumBot.
The hardware we were issued were LEGO NXT bricks and sensors as well as a few from MindSensors. MindSensors provided libraries for use with ROBOTC, which was one of the reasons why we ended up choosing ROBOTC as our IDE.
Work in Aalborg is group-based and many of the other groups spent the first weeks trying to get their NXT bricks set up for the firmwares they were using, but ROBOTC allowed us to have the part of the project kept to a minimum. ROBOTC provided us with a strong and versatile tool in solving our project, and was of great help.
Using ROBOTC, we were able to implement a mapping robot with a drive queue, with enough memory for 100m2, as well as a particle filter to correct the inaccuracies that arose from sensing when mapping. All this functionality was scheduled using a real time scheduling scheme. We do not believe this would have been possible with some of the IDEs used by the other groups.
ROBOTC has its quirks, namely much of the documentation is faulty. [Editor's Note: ROBOTC recently went through a complete documentation overhaul to address issues like these – take a look at our help docs here.] As the focus of our project was to fit as much functionality as possible into the limited space, this problem mainly arose with the sizes of different types, where the documentation deviated from the reality. But the community is fantastic and many answers to difficult questions were found in the forums during the project period. The most useful features in our project were the Bluetooth Communication and the Debug Stream, which allowed us to monitor the robot remotely and communicate with it.
We would recommend ROBOTC to anyone attempting a build of the same size as ours, but advice you to be wary and test things for yourself, because this was sometimes a problem for us.
Check out one of our test runs here:
The ROBOTC Development Team is excited to announce not one, not two, but three updates this week! Yes, earlier in the week
we announced our 4.29 update,
but we've taken care of a few more bugs along with a 3.65 update. These updates are for the LEGO MINDSTORMS (NXT and EV3) robotics systems and includes new features, functionality and a load of bug fixes.
You can download them here!
Read more below …
4.29 -> 4.30 Change Log
(EV3) LEGO NXT Sensors that are normally auto-ID'd no longer have their autoID flag disabled for that port.
(EV3) Fixed an issue with the EV3 remote screen may have caused a ROBOTC crash.
(ALL) Rebuilt firmware to version 10.30. All platforms will require a firmware update.

(ALL) Prevent Graphical files from asking to save if the "Save On Compile" flag is set to false.

(ALL) Update all standard models to have correct drive train setting.

(ALL) Fixed an issue where a "sprintf' varArg list contains a string constant the compiler was generating incorrect code causing a firmware crash.

(ALL) Compiler Fix: 'long' pointer temporary variables were sometimes being allocated as type 'signed' instead of 'unsigned'.

(ALL) Checking for "divide by zero" exception forgot to check in the "module" opcodes; it was only checking the "divide" opcodes. Fixed.

(ALL) Fixed issues where the first time the Debugger "Local Variables" window is painted with values (rather than blank) the address field displays "0xCDCDCDCD" rather than the offset.

(ALL) Graphical Interface now support "multiple selection" using Shift/Control keyboard modifiers (drag select coming soon!)

(ALL) Fix for DebugStream which was adding \r to the String as it was written to file.
3.64 -> 3.65 Change Log
(All) Fixed issue with licensing system when an unexpected error code (i.e. server is available but service is down) would cause ROBOTC to crash.

(All) Fixed issue with 'Check for Update' functionality where a hotel/school wifi login screen might cause a ROBOTC crash with unexpected XML parameters.

(All) Fixed issue with licensing system where a license could not be used on the same computer twice.
To read more about the updates from 4.29, visit our post from earlier this week. Happy Programming!
The Robot Virtual World team is happy to announce our latest updates are available for Ruins of Atlantis, Palm Island, and Operation Reset! We've included updated sample program to support all platform types (VEX CORTEX, VEX IQ, EV3, and NXT) within ROBOTC. You can also choose what type of sample program you would like to use from Graphical, Natural Language, or Standard.
Thanks again to everyone who has provided feedback! Please continue to do so at the ROBOTC.net Forums. Happy programming!
The ROBOTC Development Team is excited to announce our latest update, ROBOTC 4.29! This update is for the LEGO MINDSTORMS (NXT and EV3) robotics systems and includes new features, functionality and a load of bug fixes.
This new build of ROBOTC for LEGO Mindstorms includes a number of new features for the EV3 platform, including USB Joystick Support, File I/O (reading and writing files on the EV3), and also Datalogging while using the EV3 platform. Take a look at the sample programs folder for examples on how to use all of the new features with ROBOTC and the EV3 platform!
Important Setup Information for ROBOTC 4.29:
LEGO NXT Users:
Simply update to the latest ROBOTC firmware from inside of ROBOTC.
LEGO EV3 Users:
All users will need to update the  LEGO EV3′s Kernel by connecting the EV3 and selecting "Robot Menu -> Download EV3 Linux Kernel" from inside of ROBOTC. The version number is the same to keep alignment with the EV3 Programming Software and LEGO's releases, but the Kernel has bug fixes to increase sensor reliability.
After updating your EV3′s Linux Kernel, you'll also need to update the ROBOTC firmware from inside of ROBOTC.
ROBOTC 4.28 BETA –> 4.29 Change Log:
(EV3) Add additional message traces when enumerating Casper devices — generate a message about each device that is found during enumeration.
(EV3) Hide "Poll LEGO Brick" from EV3 – not currently supported.
(EV3) EV3 motors now use correct motor speed/power functions, depending on the PID flag in the setup pragma/dialog.
(EV3) Added intrinsic (getMotorRPM()) to calculate the RPM of a motor, updated 10x per second
(EV3) Added intrinsic to sync two motors for an infinite amount of time (setMotorSync)
(EV3) modeNXTTemperature_F was incorrectly setting mode to sensorSONAR
(EV3) Example of how to use the getMotorRPM() function. Displays a cool RPM meter on the screen.
(EV3) convertPCFileNameToFileName_LINUX() uses getMaxFileNameSize() to retrieve max filename size.
(EV3) File names exceeding 31 chars are now truncated to prevent errors.
(EV3) Fixed the Friendly_IRBeacon.c program, some code was commented out, which shouldn't have been
(EV3) Added a stall detection example which uses the getMotorRPM() function
(EV3) Convert legacy NXT I2C types into EV3 equivalents.
(EV3) Added "moveMotorTarget" to Graphical
(EV3/NXT) Driver Suite updated to the latest version in Git. Note that there's an identical copy in both the NXT and EV3 folders
(NXT) Fixed issue in "Motors and Sensors Setup" the code that compared configuration against the various standard models was not working when "External Controllers" are used.
(ALL) "Test Communications Link" dialog was not properly storing/retrieving the registry value for the "Ping Type" variable.
(ALL) Debug stream fixed so that "Clear Debug Stream" clears the IDE's Window at the proper location; previously it was possibly erasing the screen at a spot well after the actual "clear" function was called.
(ALL) Enhance Debug Stream handling to better support (1) Buffer overflow conditions and (2) proper visual appearance on IDE when "Clear Debug Stream" intrinsic is used.
(ALL) Adjustments so maximum size of messages transferred between IDE and emulator increased to 10K from 1K.
(ALL) Fix bug when maximum message size now exceeds maximum flash sector size.
(ALL) Joystick buttons had different enums for real and virtual robots. This affected the joy1Btn() command.
(ALL) Upissue Firmware Version to 10.29 / Upissue IDE Version to 4.29
(ALL) Contents of DebugStream window can now be saved through the menu
(ALL) Automatically select RVW package if one is not selected.
(ALL) Increase number of RVW Packages available to 40 potential options – allows for future level packs.
(ALL) DebugStream can now also be saved as a *.csv file
(ALL) DebugStream Window contents can now be saved to a file.
(ALL) User models (from Motors and Sensors setup) can now use relative filenames for user models.
(ALL) Fix crashing issue when CheckForUpdates get a malformed XML file (typically hotel login pages)
(ALL) Fix crash issue when Version XML file download is corrupted by school/hotel/conference "login" screens.
(ALL) Fix crash issue when licensing libraries return an unexpected return value – error message string formatting command was invalid causing a crash.
(ALL) Added pipe symbol to the LCD Printing Libraries fonts.
(ALL) Fixed backslash character in small font.
(ALL) Better parsing of "If" and dangling "else" clauses. Prevents a compiler crash when bad syntax in the "if" condition clause.
(ALL) Support in GUI for use of user-defined "motors and sensor configuration data files".
(ALL) New "registry flag" to indicate whether user defined "configuration model" files are allowed.
(ALL) Previously breakpoints could not be defined in header files. This is now fixed.
(ALL) Benign. Enhance output in message trace window for "set breakpoint" message.
(ALL) Command line based activation / deactivation commands. Implemented but not fully tested yet – documentation to follow.
ROBOTC 4.27 -> 4.28 BETA Change Log:
(ALL) Updated Help System Documentation for new commands and features.
(ALL) Updated Firmware for 10.28 / 4.28 compatibility.
(ALL) Added a compiler error when 'switch' expression was illegal.
(ALL) Support for optional "int" keyword as in the declaration "short int" or "int short" in addition to "short".
(ALL) Add USB Joystick control to Graphical (in loop blocks)
(EV3) Fixed user reported bug in Synchronized Motor Movements commands.
(EV3) Disabled setting sensor ports to typeNone/modeNone when initially configuring port. This prevented sensor ports from being reconfigured manually afterwards inside a program.
(EV3) Added Joystick support for EV3.
(EV3) Fixed BMP files not displaying properly on the EV3 screen.
(EV3) Added Datalogging for the EV3. It is file based and saves the data in a CSV format under prjs/rc-data/
(EV3) Added EV3 file operations for reading/writing to files. Commands are available for reading/writing all types and raw data. Files are saved in the standard ROBOTC projects folder and cannot be saved elsewhere for security/safety reasons.
(EV3) Fix EV3 issue of USB connected brick disconnected when COMM link is open and IDE cannot recover when USB link is reconnected.
(EV3) Changed ramp up/down parameters to 0 for EV3 motors, as per the LEGO programming environment. This is a feature ROBOTC was using but isn't supported well by the EV3.
(EV3) Fixed issue where motor speed was not normalized to -100 to 100 when values exceeding the maximum were provided.
(EV3) Adjusted I2C read and write commands to use standard LEGO ioctl. The calls are non-blocking.
(EV3) setSensorTypeModeFromWithinOpcode is now used instead of calling for a separate type and mode change. This fixes the issue of bad sensor modes.
(EV3) EV3 Touch sensor can now have both bumps and touch value read, regardless of mode
(EV3) sensorReset() now calls appropriate reset function, depending on the connection type. If used on Gyro or Touch, the heading or bump count is reset, respectively.
(EV3/NXT) Fixed issue with ROBOTC 'auto-updater' when launching ROBOTC for LEGO based platforms.
Happy Programming!
Want to earn a free Robot Virtual Worlds – Virtual Brick license? BotBench has an awesome license giveaway going on now. Be one of the first 20 people to write a review about it on your website, blog or Tumblr, and you'll receive a free license! Read more about it here!
Not sure what the Virtual Brick is? Check out our video …

Botbench also did a wonderful "First Look" blog on the Virtual Brick. Check it out here – Virtual Brick: A First Look – Making a Line Follower
Want to try out the Virtual Brick? You can download it here and when you do, you get a 10 day trial period.
Happy Programming!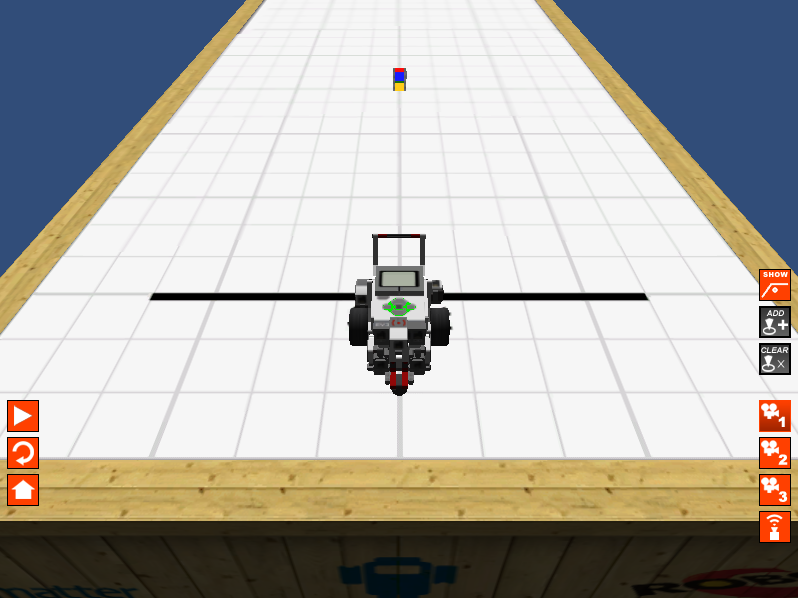 Xander over at BotBench goes into detail in a new blog post about using Robot Virtual Worlds (RVW) inside a Virtual Machine.
He talks about how some of the issues you might encounter using a VM and some of the solutions he has found. Such as the 3 camera settings in RVW:
1. Follow mode: you can use the wheel to zoom in and out.
2. Camera view from above
3. Free movement: hold left button and move to move the view. The wheel is used for zooming.
Unfortunately, if you run RVW inside a VM, camera option 3 does not work. Unless, of course, you know how to configure VMware Workstation properly. To find out how to configure properly and to read the full article, click here!