Archive for the 'Cool projects' Category
We're always happy to see 'outside-the-box' robotics inventions, so when we were contacted by a local high school teacher  (Dana Clay from Baldwin-Whitehall School District) with a couple of youtube videos, we were more than curious to see what his class had cooked up. We were not let down. The first video shows a VEX contraption that shoots ping-pong balls through a pipe "hoop" with surprising accuracy. It even has a degree of human interaction; the light sensor can be covered/uncovered to control how far the attached arm rotates.
The second video is a very cool movie of a VEX-built robot typing "I LOVE ROBOTS" on a keyboard. Robots controlling computers; now that's an awesome idea!
The final video is of a looped track with a VEX tank tread/catapult combo providing the upwards momentum to keep things rolling smoothly. This is the Ball That Never Stops, people, and it has a catapult; how can you not love it? All three were programmed in ROBOTC, of course. Enjoy!
In years past, the science and art fields were generally considered to be diametrically opposed; if something was scientific it usually didn't have artistic value, and if it was a work of art it probably didn't do much for the scientific community. Recently, though, the line between art and science has been blurred and blended in some very unique and interesting ways.
A prime example of this is a color-sensing "Coltar" made by Youtube user PhilippLens. By mixing imagination with ingenuity, PhilippLens created the hybrid guitar using a LEGO Mindstorms NXT brick with a color sensor and two touch sensors (one on the Coltar itself, the other on the 'pick'). Using the touch sensors to control chords and the color sensor to control which notes are being 'strummed' allows the Coltar to emit a surprisingly large range of notes.
For more information on this cool project, check out Philipp's Reddit post. You can also download the code here.
When you think of a printer, what images come to mind? Generally, printers are considered necessary but frustrating (Office Space, anyone?) pieces of office equipment and like most other cubicle furnishings they are usually pretty boring.
Not so much anymore.
McNamara has yet again created something functional yet stylish, this time by turning an NXT and some Mindstorm parts into a surprisingly accurate X-Y axis plotter. Quite possibly the coolest thing about the plotter, though, is that (taken from McNamara's blog) "An X–Y plotter is a plotter that operates in two axes of motion ("X" and "Y")… The term was used to differentiate it from standard plotters which had control only of the "y" axis, the "x" axis being continuously fed to provide a plot of some variable with time." This mean that the pen itself moves in both the X and Y directions (technically it moves in all 3 axis of motion, but the Z axis doesn't come into play on this plotter, except to move the pen on and off the dry-erase board) and that the table stays in a static position; very cool.
Don't take our word for it though; check it out on McNamara's blog (complete with pictures, video, code, and building instructions)!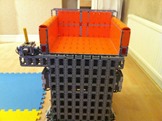 Simon Burfield, a.k.a. Burf has made a super cool model.  By model I mean chair and by chair I mean omnidirectional wheelchair. Oh and it's life-sized, too.  Yeah, it is capable of handling no less than 90 kg!  I saw a video of an early prototype a few weeks ago but this new one is even better-er!
Some facts:
It uses 7 Mindstorms bricks. One for controlling and 6 that are used for moving.
Each driving NXT has two motors attached to it.  I presume that a third motor would probably be pushing it when it comes to providing current.  It's not easy to push that much LEGO and human meat around.
The master NXT has 4 touch sensors connected (forward, back, left and right) and 2 motors to switch on the drive touch sensors.
It uses Rotacaster's omniwheels to make it possible to move in any direction (except up, of course).
It is programmed in ROBOTC (of course)
Here's one of the videos he made:
Isn't this awesome? Go check out the other pictures and videos on the original article page: [LINK]. [via BotBench]
Project Lead the Way Students at Walker Career Center have recreated the popular stuffed animal claw game using ROBOTC, VEX components, custom-made parts, lumber, and lots of hard work.
From the project page:
"The Vex Claw Game was chosen as our project for the first semester because we could really use it to promote engineering throughout the community. It's not only fun and exciting, but it also incorporates each of the Project Lead The Way classes that we offer at Walker Career Center. Parts from the claw game include many skills that we have learned during out time in PLTW including constructing structures with Vex parts, programming, rapid prototyping, CO2 laser cutting, and wiring. This project took us around 3 months of in school time to complete."
To read more about the project and see how it was built from the ground up, visit their project page here.
On behalf of the ROBOTC team, job well done!
The Arduino is one of the most diverse robotics platforms. It truly opens the world of modern electronics to the students by allowing them to interface with all sorts of relevant, modern technology. We have seen this unfold in our latest project with the Arduino, the RC car hacking project.
For this project, we decided a good candidate to start with would be the New Bright RC 'Interceptor', a larger scale car that fit a standard-sized Arduino (in this case, an UNO) and a breadboard with lots of room to spare. This surplus of space opens up tons of options for adding sensors in the future. Plus, by tapping into the car's standard battery we eliminated the need to add a second one. Since we needed to be able to control the RC car's DC motors with the Arduino, we decided to use the VEX Motor Controller 29 to convert the PWM signals into corresponding voltage levels. This solution was cheap, easy, and effective; a true engineering triple play.
Once the Arduino was implanted into the RC car, it was time to tell the newborn robot to do something. Of course, we did this using our favorite programming software, ROBOTC for Arduino (more on this later).
It is important to realize that while most robots have a tank style drive system, the RC cars have the same steering system as that found in real-sized cars (Ackermann Steering). This unfortunately eliminates the possibility of making point turns, but it does open the doors to other interesting opportunities such as parallel parking (we plan on showcasing this in a later update).
Besides being incredibly awesome, this project also helps to expand upon the superb flexibility of the Arduino and VEX systems; although not specifically designed for one another, they can easily be used together with little or no modification  to either system.
We could never allow you, the reader, to miss out on the hacking. If you are interested in this or any of our other current projects, we encourage you to take a look at the tutorials on our wiki. At the moment they are works-in-progress, but we are well on the way of having step-by-step guides for hacking a variety of vehicles, with different scales and sizes, and different methods of operation. We ultimately want the tutorials to act as guides to hack any RC vehicle, even if we do not cover it specifically.
Keep an eye on this blog and our wiki for the latest updates. If you have any hacking stories, we'd love to hear about them on our forums. Good luck, and get hacking!
This project was submitted by ROBOTC user Michael B. He uses an NXT robot equipped with a HiTechnic EOPD (Electro Optical Proximity Detector) to determine the robots surroundings and then intelligently create and navigate a path through the maze maze.
From the creator:
It shows a robot solving a maze very similar to the micro mouse challenge. It's an excellent application of 2D arrays. It's also the most accessible task I could conceive of that would require students to build robots that remembered stuff about their surroundings, related that information and build on it, and then use that information to make intelligent decisions.
Here's video of the Macro Mouse in action, with lots of additional detail:

NeXT-Generation, over on the ROBOTC forums, posted a very cool project he's been working on for the last two months.  It's an automated brick sorter made with a combination of Mindstorms NXT, Power Functions and Pneumatics.
The video might be long but it's well worth watching!
Naturally, we asked him questions about his creation:
What motivated you to make this?
I wanted to build a robot that was interactive and would entertain smaller kids, and be mechanically interesting to older ones, and even adults. Here's what happened: I planned for it to be able to "learn" where the colors were supposed to go. You could tell it if it put the brick in the right or wrong area until it learned where they all belonged. But, mechanical glitches in the construction that I didn't have time to fix prevented that from happening. I probably would have made another console with the other NXT with the yes/no buttons, and it could make sounds and use the display to interact.
How long did it take?
Well, if you count total time it's been built, about two months. But, now here's the catch: I've really only been working on it for about one month, because I got sick twice over the last two months, so in total I was out of it for about a month. During that month I was also working on other stuff. Probably about a week was lost to messing with my Boe-Bot and Pololu 3Pi.
Do you have any plans for future improvements or modifications?
I plan to revisit the same kind of concept, but with no deadline so that I can work out any problems that come up.
What is the average air speed of a laden swallow?
The average airspeed of a laden swallow is 42.
A very cool project, indeed!
Here's a neat video we found of a user who made a Pong / Brick Breaker type game in ROBOTC.
They're using a wheel in order to control the platform to keep the ball from exiting the screen.Take a look!
[Thanks to -adrian- for submitting this project!]
Description:
Based off a modified version of the NXT shoot bot, the automatic tortoise feeder has three main components: a top feeding food hopper with a motor operated paddle that dispenses food, a color sensor for line following, and a reverse mounted touch sensor which acts as like a pull trigger. The touch sensor has a colored ball mounted in it which entices the tortoises to bite at it. Once that happens the robot dispenses the food, and then executes the line following program for several seconds and stops. At first the tortoises would just bite at it because it was brightly colored but I believe after only a few gos they've figured out now that pulling out it gives food which is a pretty impressive feat of reptile intelligence as far as I can tell.
What inspired you to build this robot?
I found out about NXT after watching a video sent around at work of the cubestormer robot and thought immediately it would be fun to do a robot that could interact with our two pet redfoot tortoises. Reptiles aren't particularly trainable animals though ours are very food motivated so a robotic feeder seemed like a fun project to try. Fortunately tortoises are relatively slow moving and benign so building something to interact with them wasn't that difficult. I also hadn't seen any examples of NXT robots interacting with animals (though I think a friend of mine used the remote control shootbot to terrorize his cats?)
How long did it take you to make this?
Hard to say as I started and stopped several times? The programming took about a day once I went through the ROBOTC tutorials from Carnegie Mellon. I almost gave up initially trying to program it with the included NXT-G software and left the project alone until I found out about ROBOTC The construction maybe a week or two? I tried a few different designs before the current one that all had various problems. It took a while to figure out a way to mount the touch sensor in a way that would allow a tortoise to trigger it.
What are your future plans with the robot?
I'd like to try a modified mechanism for dispensing the food. The vertical mounted hopper and the irregular size of tortoise pellets makes the amount dispensed each time really difficult to control. My current idea is to try mounting the dispenser horizontally and use either one of the rubber treads or maybe a track from a lego technic set to dispense the foot more like a conveyor belt. Also might try a different way to move the robot around than using a line follow, possibly the distance sensor and some simple wall avoidance?